Yankees vs AL East
A few years ago, the American League East was arguably the best division in baseball. In fact two years ago it produced the World Series Champion. For many years it was dominated by the Boston Red Sox and New York Yankees, as the two historic rivals would fight for the top spot all season long and then try and one up the other in the offseason.
Then the 2008 season came along and Tampa Bay dropped the "Devil" and became the Rays thus throwing them into contention. Toronto and Baltimore have no also put together competitive squads making the division much more wide open. In fact Baltimore has made the playoffs two of the last three years and are the reigning division champions, while Toronto has yet to play beyond game 162 in the past ten years.
This offseason presented challenges to all five division foes and all have improved in some aspect but inevitably lost quality talent. The Yankees themselves have had an interesting offseason so far to say the least. Lets take a look at their offseason.
As they said goodbye to Derek Jeter, the Yankees missed the playoffs in 2014 for the second straight year. Their first order of business this winter, aside from keeping their fragile stars healthy, was to replace their departed captain. In a three-team trade involving Arizona and Detroit the Yankees got their shortstop in the form of Didi Gregorius or Sir Didi as he was knighted in the Netherlands. The next order of business was re-signing Chase Headley to man the hot corner for the next four years. New York's next move was a little puzzling to me as they dealt Martin Prado and David Phelps to Miami in exchange for hard-throwing righty Nathan Eovaldi, slugging bench player Garrett Jones and a pretty solid prospect in Domingo German. Prado most likely would have been the club's Opening Day second baseman, so the trade raised some eyebrows. It looks like it is going to be a Spring Training battle between Stephen Drew, Rob Refsnyder and Jose Pirela for the starting job. The Yankees have otherwise only made a huge splash in the bullpen market by letting closer David Robertson walk and signing Andrew Miller, who will form a jaw dropping back end of the bullpen alongside the brilliant young Dellin Betances.
And who could forget about A-Rod? That's right, Alex Rodriguez's year-long suspension has ended, but at the tender age of 39 going on 40, the former mega star is slated to be the full-time DH, and no matter what, it's clear that Rodriguez has a place on the Yankees roster. New York is relying on Masahiro Tanaka not needing Tommy John Surgery, CC Sabathia coming back strong and Carlos Beltran staying healthy. If Brett Gardner and Jacoby Ellsbury pick up where they left off in 2014, that can only help the Yankees even more. Aside from that the Bronx Bombers have been uncharacteristically tight with their finances which is certainly a good sign, although James Shields is still lurking out there even if Andrew Marchand of ESPN New York says they aren't interested in the work horse righty.
For the Yankees to be successful in 2014 they are going to have to play well in the division as they play their four divisional foes eighteen times each. So why don't we compare projected lineups and see where the Bombers rank.
CATCHER: Brian McCann vs Matt Wieters (BAL), Christian Vazquez (BOS), Rene Rivera (TB) and Russell Martin (TOR). Let's just say this: Brian McCann is the best of this bunch. Throw Rivera out of the conversation to start, Vazquez is brilliant defensively but still too young and inconsistent so he's out of the picture. Martin the former Yankee had a nice two years in Pittsburgh but something tells me Toronto severely overpaid for his services. That leaves Wieters who when healthy is a very good player but just doesn't bring the same offensive threat that McCann has especially playing 81 games with that short right field porch. Ranks: McCann, Wieters, Martin, Vazquez, Rivera. Advantage Yankees.
1st BASE: Mark Teixeira vs Chris Davis (BAL), Mike Napoli (BOS), James Loney (TB) and Justin Smoak (TOR). Before I fall out of my chair laughing let's just take Smoak out of the equation (can you believe he was traded for Cliff Lee at one point). Napoli is a good power hitter but he just had surgery to correct a sleep apnea issue and he even pondered retirement per Buster Olney so who knows how good he'll be (hello Allen Craig). If Chris Davis can be the 2013 version of himself than he would win this category hands down, but a terrible 2014 has made him so much less valuable in my opinion. The slick fielding Loney has had two solid years with the Rays but again lets be real here, it's just James Loney. Teixeira wins this battle on account of him being the best all around player of the group; he just needs to find a way to stay healthy. Ranks: Teixeira, Loney, Napoli, Davis, Smoak. Advantage Yankees.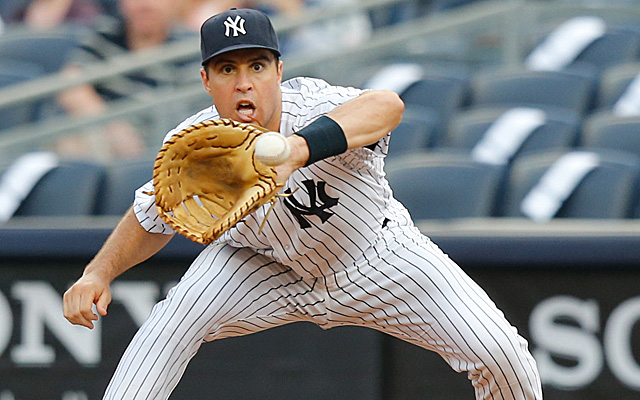 2nd BASE: Stephen Drew vs Jonathan Schoop (BAL), Dustin Pedroia (BOS), Nick Franklin (TB) and Ryan Goins (TOR). I firmly believe the Yankees would have been much better going with Jose Pirela and Rob Refsnyder than shelling out $5 million for Stephen Drew but I digress. Franklin has a lot of offensive promise but like Schoop he is young. Goins is an exciting player to watch and all but everyone in this category is just dwarfed by Dustin Pedroia. Ranks: Pedroia, Schoop, Franklin, Goins, Drew. Advantage Red Sox.
3rd BASE: Chase Headley vs Manny Machado (BAL), Pablo Sandoval (BOS), Evan Longoria (TB) and Josh Donaldson (TOR). By far, the best positional matchup as all five teams have former All Stars. This one is really a toss up. Anyone of them is a great pick and a great player to have on the team. The Yankees and Headley are a smart match and I think ownership got this one right. While I think he will be a big part of New York's success, I rank these guys Longoria, Machado, Donaldson, Sandoval and Headley. Advantage Rays.
SHORTSTOP: Didi Gregorius vs JJ Hardy (BAL), Xander Bogaerts (BOS), Asdrubal Cabrera (TB) and Jose Reyes (TOR). To this day I wonder what JJ Hardy was thinking. The stage was set for him to join the Yankees and replace Derek Jeter but no, he loves his Natty Boh Beer and Crab Cakes and decided to stay in Maryland. So the Yanks go out and trade for the defensive wizard that is Sir Didi. Cabrera is a nice player but he isn't in the running, Bogaerts has the skills to be a star but he had a mediocre 2014. Hardy is the most solid of the group but Reyes is certainly the most dynamic and the winner of this category. I rank these guys Reyes, Hardy, Bogaerts, Gregorius, Cabrera. Advantage Blue Jays.
LEFT FIELD: Brett Gardner vs Alejandro De Aza (BAL), Hanley Ramirez (BOS), David Dejesus (TB) and Michael Saunders (TOR). Could the participants from Baltimore, Tampa Bay and Toronto please exit accordingly? This is most certainly a two horse race with the speedy Gardner against the shortstop turned outfielder Ramirez. While I expect Ramirez to flourish in his first season in Beantown the winner here has to be Gardner because of his much better defensive ability. Ranks: Gardner, Ramirez, De Aza, Saunders, Dejesus. Advantage Yankees.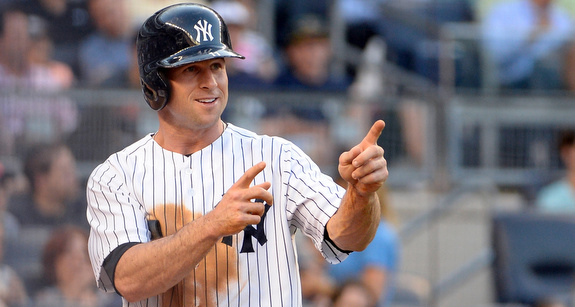 CENTER FIELD: Jacoby Ellsbury vs Adam Jones (BAL), Rusney Castillo (BOS), Desmond Jennings (TB) and Dalton Pompey (TOR). Another good race here, but Pompey is far too young to judge and the same could be said about Castillo but from seeing him in person, this guy has the potential to be Adam Jones one day. Jennings is a solid player at the top of the Rays lineup but always seems to find his way on the DL. Ellsbury was arguably the Yankees best player last year and so far it seems his seven year deal was a good investment. He has MVP potential but it's so hard to pick against Jones who is just everything you want in a center fielder all rolled into one. Ranks: Jones, Ellsbury, Castillo, Jennings, Pompey. Advantage Orioles.
RIGHT FIELD: Carlos Beltran vs David Lough (BAL), Mookie Betts/Shane Victorino? (BOS), Steven Souza Jr (TB) and Jose Bautista (TOR). Do I really need to explain this one? Okay I will. Anyhow, I have no idea what Boston is doing with their glut of outfielders. Betts looks like the real deal but Victorino is a great guy to have at the top of the lineup. Lough isn't even in this race; Souza Jr is my early pick for Rookie of the Year but who knows if he will pan out. Beltran in my opinion was one of Cashman's biggest mistakes as Yankees GM. Three years for a guy in the twilight of his career? The only hope is he stays healthy and uses the short porch. Jose Bautista is obviously the winner of this category and it wasn't even close. Ranks: Bautista, Betts/Victorino, Souza Jr, Beltran, Lough. Advantage Blue Jays.
DESIGNATED HITTER: Alex Rodriguez vs Steve Peace (BAL), David Ortiz (BOS), John Jaso (TB), and Edwin Encarnacion (TOR). This is really a fun debate because we really don't know what to expect from A-Rod this year. I'm of the small facet that actually expects him to be productive and have 20 plus "A-Bombs" (ugh John Sterling) but he still sits behind Ortiz and Encarnacion. The biggest power threats in both their lineups are both game changers. Jaso (hahahahah) and Pearce never really stand a chance. It's actually comical that A-Rod is probably going to be booed vehemently in his own ballpark. Does anyone #FORG1V3? No? Okay then. Ranks: Oritz and Encarnaicion tied then Rodriguez, Pearce, Jaso. Advantage Red Sox and Blue Jays.
So there you have it, that's how the Yankees lineup stacks up against the rest of the AL East.
Agree? Disagree let us know.
Photos via sports-logos-screensavors.com, si.mlb.com, and cbssports.com.