Takeaways from Early Spring Training
Hello folks, it's been a while since we last talked, but to be fair, there hasn't been much to talk about. The Yankees by and large had a disappointing offseason. Yes, they signed Andrew Miller and wisely retained Chase Headley, and while the loss of David Robertson is easily recoverable, losing solid starter Brandon McCarthy isn't. The Yankees then traded for Didi Gregorius and foolishly traded the good hitting and versatile Martin Prado for the guy who led the NL in hits allowed last year with an ERA over 4.00: Nathan Eovaldi.
The Yankees whiffed on opportunities to improve the team by not even making an offer to Max Scherzer and Jon Lester. Once these two were off the board there was a bit of speculation that James Shields could be an option and would have been a wise pick up, but alas, the swift reloading Padres scooped in and signed the durable righty.
After these pitchers, all eyes turned to Yoan Moncada, an absolute stud of a prospect who is projected to be the best out of Cuba in recent years at 19 years old. All he would cost is cash, of which no club has more of than the Yankees. Low and behold the team held a whopping three personal work outs with the young Cuban and all signs seemed to be pointing a bright future for Moncada in pinstripes. That's when the Boston Red Sox swept in and picked him up. It later came out that the Yankees refused to add $6 million (with penalties it would have been $12 million total, still a very slim amount in the big picture) to their offer to sign the young Moncada. There was debate about who was behind the inexcusable failure to sign Moncada, but ultimately it is clear the organization is more worried about keeping money in their pocket than building a winning team. That worries me, especially when the Red Sox are primed for a solid next few years with a solid lineup and plenty of prospects to expend for an ace pitcher. Look out.
For now though, we will focus on what we've seen thus far in spring training. Some good, some bad. No, I won't talk about A-Rod. We've had far too much of that. Instead, let us focus on a few things that have been clear from very, very early on in spring training.
Mark Teixeira is Finally Getting Healthy
Let's talk about my favorite Yankee, Mark Teixeira. The last few years have ultimately been a bummer for Teixeira who has battled a massive amount of injuries in that time span. It all started a year ago when he tweaked his wrist in training for the World Baseball Classic and he was clearly not the same after the injury. Anyone who has injured their wrist and tried to swing a bat knows that it absolutely cripples your swing.
After getting a full offseason of rest and going on a diet overhaul to appear at camp leaner, but more muscular, Teixeira finally appears to be over the injury troubles that have plagued him these last few years. Teixeira has looked comfortable in his at bats and so far has a few hits in two games. The biggest thing is he hasn't struck out and has put the bat on the ball, which could be a problem for him in recent years. If this trend continues I think it would be relatively safe to say his injury woes aren't hurting his swing anymore and if that's the case, Mark Teixeira is only 34 and could be in for a big year.
Keep in mind Tex hit 22 homers in only 123 games last year, so if he's healthy, 30 home runs is easily a possibility. I think Teixeira is primed to silence all the senseless Yankee fans who for some reason think it's his own fault for getting hurt so much these last few years. Oh, and he's still keeping up the goofy spring training the shenanigans as evidenced by the posted picture of him. That's awesome.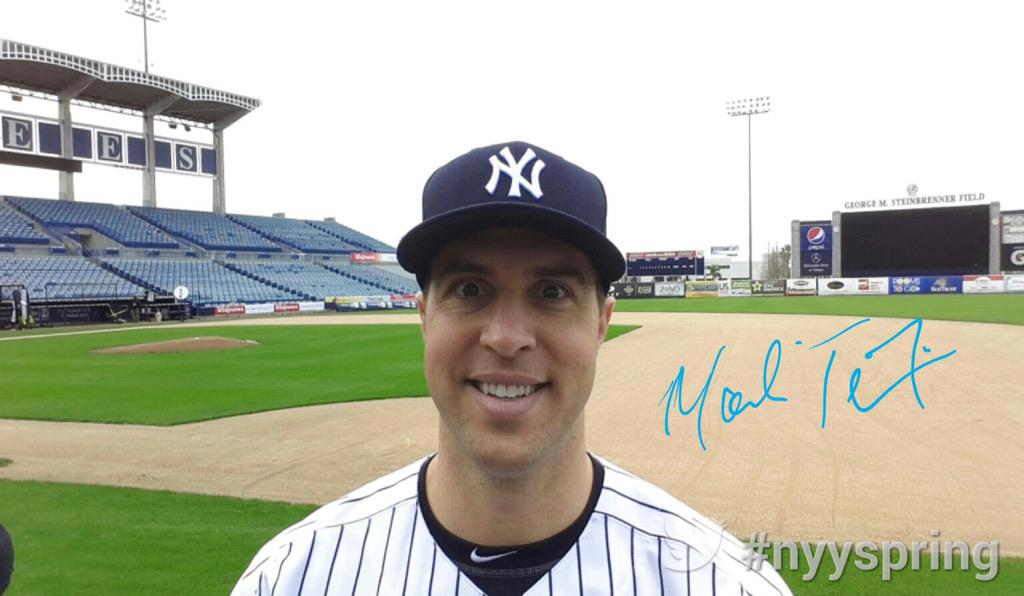 Didi Gregorius is Exactly as Advertised
Let's be honest, Sir Didi Gregorius is a pretty underwhelming replacement to Derek Jeter. Since his acquisition all we heard was that he was a glove first shortstop who would be above average in the field but below average at the plate.
Well, recently we were bombarded with a slew of "Yankees need Didi to be Didi and not Jeter" talk and it appears as if Didi will be exactly himself. In a few game Gregorius has a paltry .143 batting average and hasn't exactly shown that he can handle himself at the plate.
Conversely, Gregorius has looked great in the field, displaying quick movement and a great range combined with a cannon for an arm. This is something we didn't have with Jeter for the last few years and as much as we all loved him, it'll be nice to have an above average shortstop once again.
Thus, we are finding out that Didi Gregorius is exactly as we were told he would be. Odds are he will be worse offensively than Jeter, but better defensively. I will leave that up to you to decide whether that is a good or a bad thing.
The Pitching Staff is a Real Question
All offseason I wrote about how this pitching staff is a bomb waiting to explode and how additions were needed to solidify it. No additions came and so far nothing has happened in spring training to make me feel any better.
Masahiro Tanaka is pitching on a partially torn UCL and to me, it's foolish to try and pitch on that again, especially at the workload he would receive as the ace of the staff. Yes, his bullpens have gone fine, but at any second that partial tear could become a full tear and if that happens, by the time Tanaka recovers from Tommy John surgery, he will be half way through his contract. Yikes.
So far the fifth starter competition has been a mess. For whatever reason, the Yankees see Chris Capuano as a legitimate big league starter and I just don't get it. Last night Capuano was hit hard his first two innings and fellow competitor for the spot Scott Baker was lit up today by Houston. Is anyone surprised by this? We shouldn't be. In all likelihood one of those two will be the Yankees fifth starter, which will seriously decrease the Yankees' chance of winning every fifth day and that's not good. Bryan Mitchell dazzled in his first spring start and he's been highly regarded by the organization recently and was decent enough in a few inning for the big league club last year. I think it's far wiser to give him a chance at starting over Capuano and Baker and this way Adam Warren can stay in the bullpen where he belongs.
Nathan Eovaldi hasn't done anything to change my mind about the trade from him being an inexplicably bad one. He was hit in his start and still doesn't seem to have an out pitch or run on his fastball. That's going to be bad, bad news in Yankee Stadium, especially in the offensively loaded AL East and I don't have the slightest ounce of optimism for him going forward.
CC Sabathia showed up to camp back around his old weight and to me this is a good thing. Sabathia just lost too much strength in his legs when he slimmed down and he never looked comfortable while pitching so. My biggest hope is that he can regain some velocity and settle back in the groove he pitched in a few years ago. I think there's a decent chance that happens.
Lastly, there's Michael Pineda and his bit will be brief. If he's healthy, he will certainly be a solid pitcher. However, he's been a walking DL trip since joining the league, so we will see if that happens.
So far I have been pleasantly surprised by the young hitting talent the Yankees have. I will name a few of the stand outs so far and give a summary where necessary.
Gred Bird - .444 AVG 1 HR 3 RBI 2 2B
So far Greg Bird is looking like an absolute stud in the making. While most the talk has been about Aaron Judge's size and power (and rightfully so, I mean the man is bigger than Giancarlo Stanton), Bird himself is a big guy at 6'3 215lbs. Greg put himself on the radar by winning the Arizona Fall League MVP this last year and he hasn't stopped hitting since. Bird has absolutely raked so far. In a handful of games Bird is hitting .444 with three extra base hits including a two run shot. Sure, they haven't come off of any stud pitchers, but he's hitting guys that other ballclubs are considering to be big league talent.
As stated earlier most Yankees fans are all about Judge, as am I, but boy oh boy I'm more excited for Bird. While he may end up projecting as a DH long term, with that bat, it'll be worth it. And if he keeps hitting the way he does, he could force his way up as a September call up and push for a roster spot next year. Bird is the word.
Rob Refsynder - .500 AVG 2 RBI 1 2B
I've been skeptical of Robert Refsnyder, and I have been right and wrong. Where I've been right is his defensive ability. There has been genuine concern about his fielding ability and sure enough Rob made a fielding error his first game.
I really hope he learns to field quick because where he proved me wrong is his offensive ability. The kid can hit. Refsnyder has blistered his way to a .500 average and seems to get a hit each game he plays in. He had a clutch go ahead single versus the Astros today. Stephen Drew doesn't look comfortable at second base either defensively, so if both 2B candidates look shaky defensively, we might as well go with the one who's hitting and that's Refsynder.
Nick Noonan - .429 AVG 2 RBI 2 2B
Nick Noonan is an interesting case. The journeyman has hit very well this spring with a few doubles and RBIs. He plays second and shortstop and is making a case to make the team. The only issue? There's no roster spot for him.
I would like to see Noonan play well enough to force the Yankees to cut Brendan Ryan and let Noonan be the utility man. Brendan Ryan isn't that stellar defensively anymore and I seriously believe I could hit better than him. Here's to hoping Noonan continues to hit at the pace he is.
Other notable players thus far:
Jake Cave - .571 AVG1 HR 3 RBI
Ramon Flores - .375 AVG 1 HR 2 RBI
Follow the
@BronxBomberBlog
on twitter for more Yankees updates, analysis, stats and interviews!