Prospects Flying Under the Radar
After several years of the Yankees fielding a poor farm system, the farm is rebuilding and is pretty quickly becoming a force to be reckoned with. In addition to potential superstars in the MLB, the Yankees also have a ton of potential solid major leaguers and some prospects flying ay under the radar. This blog isn't to focus on the big names you've probably heard one thousand times (Severino, Judge, Bird, Refsnyder). Let's take a look at some of the prospects flying under the radar.
Tyler Wade
Ben Gamel (OF) (Triple-A, Scranton)
Brother of former MLB player, Mat Gamel, Ben has flat out hit the baseball all season in Scranton/Wilkes Barre. The more he hits, the more he rises on scout's radars as he's hitting .292 in AAA. Coming off down seasons in 2013 and 2014, the resurgence of Ben Gamel is being noted in 2015.
Kyle Roller (1B) (Triple-A, Scranton)
Roller may not be the most glamorous major league prospect but with a ton of power, Roller has a shot at playing somewhere. After a fantastic year in 2014, Roller's batting average has taken quite the dip, but with 12 home runs in triple-A, he's just one off the league lead. He carries a heavy load as a big guy who is also a big hitter and there's no way around that.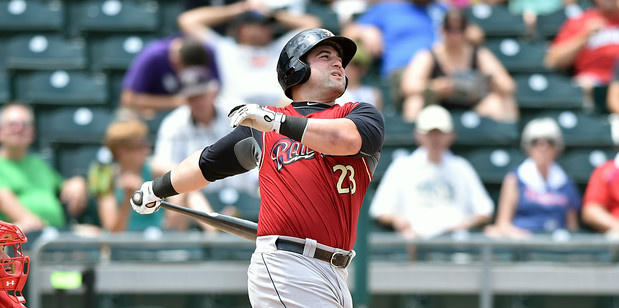 Ali Castillo (SS) (Triple-A, Scranton)
Ali Castillo was so far off the radar of fans and scouts alike as he was likely ridden off years ago. The truth is, Castillo hasn't ever hit well in the minors with the exception of 2009, 2010 and 2012. Since 2012, Castillo has struggled to get much going. However, 2015 has been a much different story as Castillo forced his way into AAA after hitting .351 in 24 games in Trenton. After 11 games in Scranton, Castillo is hitting .325 for a total of .343 on the season.
James Pazos (LHP) (Triple-A, Scranton)
A non-roster invitee to Spring Training this year, Pazos is quickly establishing himself as a valuable relief pitcher in the minor leagues. In 9 appearances this year between Trenton and Scranton, Pazos carries an ERA of just 1.88. If he continues his success in AAA, the 24-year old left-hander could find himself thrown into the revolving door known as the Yankees bullpen this year.
Jake Cave (OF) (Double-A, Trenton)
Of the list so far, Cave is probably the one guy the majority of Yankee MiLB fans are most familiar with. Cave has continued his trend of hitting for a good batting average as he's hit to a .279 pace in 2015. A career .287 hitter in the minor leagues, Cave also plays a good centerfield and runs the bases very well. If he's not included in a trade soon, Cave could find himself in pinstripes next season.
Matt Snyder (1B) (Double-A, Trenton)
Matt Snyder is a big guy. At 6'5" 230 pounds, Snyder is a very good size as a first baseman. The only problem is that he's 25 years old and still in double-A. However, after hitting .371 with 3 home runs in 24 games in Tampa, he was sent up Trenton. Snyder is also a .287 career minor league hitter and if he keeps hitting, he may gain more notoriety. Snyder's only problem right now is that he's the backup to top prospect Greg Bird.
Brady Lail (RHP) (Double-A, Trenton)
This 21-year old right-hander is quickly rising on most prospect boards. Brady Lail has been incredibly effective ever since becoming a pro baseball player and this season is no different. Lail is 4-3 with an ERA of 2.48 in AA in 13 starts. Lail is able to dial up his fastball into the low to mid 90's with a good curveball, changeup and decent cutter. He has the upside of a solid number 3 starter down the road as his ETA is 2017.
Nick Goody (RHP) (Double-A, Trenton)
Nick Goody is following up a not-so stellar 2014 season with a dynamite season in 2015. Goody is 1-1 with a 1.72 ERA in 26 appearances. He's picked up four saves pitching in the back-end of the bullpen. He's undersized but could become a solid reliever considering the numbers he's putting up in double-A.
Kyle Haynes (RHP) (Double-A, Trenton)
Kyle Haynes is now putting together his third straight solid season in the minor leagues. Although he sports a record of just 1-5, Haynes' ERA sits at a nice 3.00 in 22 appearances. Haynes has become a starting pitcher with 6 of those appearances being starts. He also has one save so he has the ability to thrive in the rotation and in the bullpen. At 6'2", 190 pounds, Haynes may soon rise on prospect boards throughout.
Jordan Montgomery (RHP) (Single-A Advanced, Tampa)
The big left-handed fourth round pick in 2014 out of the University of South Carolina is mowing down minor leaguers this year. After a 4-3 record and 2.68 ERA in 9 starts in Charleston, he was promoted to Tampa where he now has a record of 1-2 with a 3.04 ERA in 4 starts. His ERA sits at a very good 2.81 on the year. Being that he was drafted pretty high, look for him to crack the Yankees top 30 prospect list in 2015 if he continues pitching well this year.
Dustin Fowler (OF) (Single-A Advanced, Tampa)
After hitting .307 with 4 home runs, 9 doubles and 18 stolen bases in Charleston, Fowler too was sent up to Tampa. Fowler hasn't wasted any time getting going in class-A advanced hitting .529 in his first 6 games with 3 stolen bases. An outfielder who possesses many tools, Fowler is turning into a solid player with decent potential.
Tyler Wade (SS) (Single-A Advanced, Tampa)
Tyler Wade's prospect status has steadily risen since being drafted in the 4th round of the 2013 Amateur Draft. Wade has continued hitting for a good average as it currently sits at .272. Wade also has 8 doubles, 2 triples, 2 home runs and 27 stolen bases in 65 games in Tampa. He was recently selected to the FSL All-Star Team and is turning into a valuable asset for the Yankees. If he's not traded this year, his prospect status should keep climbing in the Yankees organization.
Austin Aune (OF) (Single-A, Charleston)
In 52 games in Charleston, Aune is hitting .271 with 5 home runs, 32 RBIs and 15 doubles. The right fielder has consistently put up solid numbers in the Yankees minor league system. He may not be a glamorous prospect, but he's a solid player, nonetheless.
Caleb Frare (LHP) (Single-A, Charleston)
Although he'll be turning 22 and still in single-A, a promotion may soon be in Caleb Frare's future with the numbers he's put up this year. Frare is 3-1 with a 2.62 ERA in 21 games this year. He's struck out 35 hitters in 34.1 innings. He, too, isn't the most valuable prospect but he's performing in Charleston.
There are multiple other prospects over-performing in addition to Baby Bombers under-performing. However, for the most part, the Yankees top prospects are performing as expected and that's a trend we hope to continue. Some of the players mentioned in this blog may be subject to trades midseason which wouldn't be too tragic. I've said this all along, but as long as Luis Severino, Aaron Judge, Greg Bird and Jorge Mateo aren't traded, I'll be fine.