Midseason Grades: Position Players
The offense of this year's team is much improved over the team in 2014. On the defensive side of the ball, the 2015 Yankees have done a good job overall as well. This has led the team to a record of 48-40 and a 3.5 game lead over the Tampa Bay Rays. The team couldn't be in a better position. We have graded each Yankee position player on the basic A-F scale with some players receiving a grade of "I" for "Incomplete." Enjoy!
Brian McCann, C
Chad's Grade: A, Steven's Grade: A-
Chad
: After a disappointing first season in pinstripes, Brian McCann has been much better in 2015. Nearly all of his numbers have improved in 2015 as he's hitting .259 with 14 home runs, 55 RBIs and an OPS of .802. With his stellar defensive play, there is a good case that McCann was snubbed of an All-Star team selection. McCann has come through in the clutch and done all the right things which has made him a leader on the team. In my mind, Brian McCann is the smartest catcher in the league as he calls a great game for his starting pitchers.
Steven
: After a disappointing 2014 season, McCann has really stepped up this year. In my opinion, he was the biggest All-Star snub on this roster, aside from my man A-Rod of course, considering his numbers are superior to both Salvador Perez and Russell Martin. McCann has hit for power and been a consistent run producer on this team. He's also had his share of big hits. Oh yeah, and his McCannon of an arm has proved to be a huge asset for the Yankees on defense as he's caught roughly 45% of runners who have attempted to steal against him, well above the league average.
John Ryan Murphy, C
Chad's Grade: B-, Steven's Grade: B
Chad
: As a backup catcher, John Ryan Murphy hasn't done many things poorly although he isn't excelling by any means either. Murphy is hitting .247 but without much power, he has 4 doubles, 1 triple and no home runs which is why his slugging is at a low .325. With that said, his defense behind the plate is much improved which is why he has been slightly above average as a backup catcher. Brian McCann has surely helped him out defensively.
Steven
: I think the Yankees should be looking at Murphy as a trade chip. He's played pretty well defensively, and if he got consistent at bats he could be better offensively. He's served as an effective back up to McCann and appears to work very well with the pitching staff. Murphy has been the player I expected him to be, so no complaints here.
Alex Rodriguez, DH
Chad's Grade: A+, Steven's Grade: A
Chad
: A-Rod gets an A+ for the simple reason that he has performed dramatically better than anyone would have predicted. In fact, in spring training, most weren't sure that he'd even start, let alone make the 25-man roster. Rodriguez is hitting .278 with 18 home runs and 51 RBIs. With an OPS of .898, A-Rod has the highest OPS of anyone that didn't make the All-Star team. You want to talk about an All-Star snub and a guy vastly outperforming expectations? Alex Rodriguez is your guy.
Steven
: A-Rod's performance this year has been nothing short of amazing. I'm sure nobody, except myself, expected this type of production out of him. He has become one of our most dependable offensive options, not to mention a leader in the clubhouse. I'm so happy Alex was able to overcome his troubled past, and prove he can still be a very productive baseball player. You go Alex!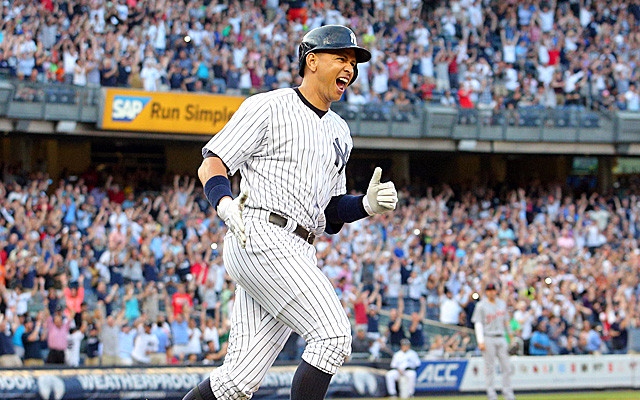 Stephen Drew, 2B/SS/3B
Chad's Grade: F+, Steven's Grade: D
Chad
: I almost gave Stephen Drew a D- but then I realized this: He hasn't had a batting average of over .200 all season. That's right folks, not even once. Drew's sneaky pop has been unexpected but pleasing with 12 home runs including 3 instances this year where he's homered twice in one game. Drew's fielding is slightly above average but we tend to forget about that when his batting average is still a dismal .182. With that said, the power that came out of nowhere in 2015 and his above average defense, Drew may stick around all season on the bench, but the Yankees will desperately need to get an upgrade at the trade deadline.
Steven
: Stephen Drew is nothing short of atrocious. The only reason I am not giving him an F is because the power numbers have been there considering he has hit 12 homers thus far. His defense, though not elite by any measures, has also been good. For some reason whenever it seems as if Drew might be close to losing his job, he always comes up with a big hit and earns back Girardi's trust. I mean let's be honest, everyone and their mother knows Stephen Drew sucks.
Chad's Grade:

I, Steven's Grade:

I
Chad
: As a versatile infielder, it's impossible to adequately grade Cole Figueroa after only appearing in two games. Figueroa went 2-4 in his season debut including two doubles leaving me optimistic before an 0-4 game in Boston. As a guy who can play second base, third base and a little bit of shortstop, Figueroa may swing between triple-A and the majors all season and he'll definitely be in line for a September call-up. Until then, I can't give him any grade other than incomplete.
Steven
: While he was only up for a few games, Figueroa filled in admirably for Chase Headley while he was sidelined. I know this may sound a little premature, but I like Figueroa more than Headley. I hope to see him back again with the club sometime soon, as I'd prefer him to Petit and Ryan.
Didi Gregorius, SS
Chad's Grade: C+, Steven's Grade: C
Chad
: Didi Gregorius looked absolutely lost in April. Didi hit .206 in the month of April with 0 home runs. Since May 1, Didi has hit .248 with 4 home runs. His on base percentage is nearing .300 on the season. Additionally, he's finally beginning to flash the leather as he was advertised as a "plus defending" shortstop. So in May, June and July, I'd give him a B- but April hurt his overall cause.
Steven
: I'd like to let it be known that I'm no fan of Didi Gregorius. I think he is the JR Smith of baseball and lacks fundamentals. With that being said, I also must admit he has been hitting better of late, and his defense is improving. While I still don't believe Didi is a long-term answer at short, he's earned a longer leash in my eyes.
Chase Headley, 3B
Chad's Grade: C, Steven's Grade: C-
Chad
: I had high expectations for Chase Headley given the contract he signed in the offseason. Unfortunately, Headley hasn't quite lived up to mine and Yankee fan's expectations but if you look at his numbers, he hasn't been all that dreadful. Sure, he's been a piece of work in progress as every ball hit to him has us holding our breaths. He's made 16 errors this season which is already a career high but he's done his job at the plate. He has a decent slash line of .255/.310/.373 so although he's been bad in the field, he's hit as expected which leads me to giving him a grade of a barely satisfactory C.
Steven
: Chase Headley is another guy I can't stand watching play. I can't believe the Yankees traded away Martin Prado and signed this guy to a long-term deal. Headley's 16 errors lead the team, however he has been better defensively as of late. Despite coming through in the clutch last year, he always seems to kill rallies this year, whether it be by hitting into a double play or striking out in a big spot. I believe his one good year in 2012 was a fluke, and his contract will turn into another one of Brian Cashman's mistakes.
Gregorio Petit, SS/2B
Chad's Grade: D-, Steven's Grade: F
Chad
: Petit has been disappointing in a low-cost move that the Yankees made days before the season began. Petit had actually put up impressing numbers in short stints with the Athletics and Astros but he hasn't maintained that pace in 2015 with the Yankees. Although he's tearing it up in triple-A, Petit can't crack the Mendoza Line and he's not doing many positive things with a wins above replacement (WAR) of -0.5.
Steven
: I think it's fair to say that Petit is not good at baseball. He cannot hit and he cannot field. Joe Girardi and Brian Cashman must have a crush on him or something. Why send Jose Pirela down and keep him in the majors? So again I ask, why is Gregorio Petit on the team?
Jose Pirela, 2B/UTIL
Chad's Grade: D+, Steven's Grade: C
Chad
: After flourishing briefly in his September stint in 2014, Pirela had finally made a name for himself in the Yankee organization. Before his concussion in spring training, I fully expected him to make the 25-man roster on opening day and eventually take the starting job from Stephen Drew. Unfortunately, Pirela has been hurt by inconsistent playing time which can be attributed to Joe Girardi and company. However, when Pirela has played, he hasn't be impressive has he's barely hitting above .200 and he has not given his best efforts defensively.
Steven
: Coming into the season, I had high expectations for the man Reggie Jackson claimed was the best young hitter in the Yankees organization. I thought he would steal the second base job from Drew and run away with it, but unfortunately that hasn't happened. Similar to Murphy, I believe Pirela needs to get consistent at bats in order to get on a roll.
Rob Refsnyder, 2B
Chad's Grade: I, Steven's Grade: I
Chad
: After two games in Boston, I can't realistically grade Refsnyder but I can tell you that I'm impressed. The 0-3 in game one was unlucky as Refsnyder hit the ball hard twice but right at defenders. He made up for it in his second career start going 2-4 including his first career home run. Refsnyder may be the best pure hitter in the Yankee farm system as his approach to hitting is solid. His highly criticized defense is definitely improved as he made all the plays he had to including a few instances where he gave his best efforts diving for balls and almost making spectacular plays.
Steven
: While it's impossible to grade Refsnyder off of two games, he has impressed me. It's pretty obvious that he's improved with the glove. His home run against the Red Sox this Sunday also proved to be the deciding factor in the game. His calm and composure is something not often seen in a rookie. I just hope he can steal the second base job away from Drew, but unfortunately I think Cashman is using him as a potential trade chip.
Brendan Ryan, SS/2B/3B
Chad's Grade: I, Steven's Grade: I
Chad
: Another year and another Brendan Ryan injury – no one is surprised. Ryan has only appeared in 6 games all season as it's just one injury after another with this guy. We know Ryan's magical on the defensive side of the ball but we haven't seen enough to give him anything more than a grade of incomplete. Ryan hasn't made many mistakes when he's played as he's hitting .308 with a triple but again, he's barely played this year. My hope is that he can come back and perform similarly to the numbers he put up in a few games this year. I also hope he keeps his mustache because it's majestic.
Steven
: Though his contract is not as horrendous, Brendan Ryan has become the next Carl Pavano. He has been on the disabled list more the last couple of years than he's played. He seems to be a gritty player with passion; however I cannot effectively rate him because he can't stay healthy. I hope when he returns from his latest injury, I never have to see Gregorio Petit in a Yankee uniform ever again.
Mark Teixeira, 1B
Chad's Grade: A+, Steven's Grade: A-
Chad
: Mark Teixeira has been nothing short of fantastic in 2015. Coming off injury plagued 2013 and 2014 seasons, Tex has rebounded emphatically this year. His .244 average along with 22 home runs and 62 RBIs (which leads the American League) have placed Teixeira on the All-Star team. He's in-line to winning a gold glove at first base and is a dark horse MVP candidate if he could raise his batting average. Nonetheless, the gluten free diet has done it's wonders.
Steven
: Teixeira has had an amazing comeback year for the Yankees. Following his wrist surgery in 2013, many began to question whether or not Teixeira would be able to resemble the player he once was. On top of his gold glove caliber defense, this Yankees All-Star has 22 homers and an AL leading 62 RBIs. If it weren't for his .244 batting average I would say Teixeira is the first half AL MVP.
Carlos Beltran, RF
Chad's Grade: B-, Steven's Grade: C+
Chad
: If you would've asked me in April, I would've told you Beltran wouldn't finish the season as a Yankee. Although this may still be true, he won't be designated for assignment as I indicated might have happened if he didn't get it together. He's been subject to trade rumors but it's because he's hit the ball very well since April. Beltran went through April homerless with a .162 batting average. In May and June, Beltran hit .299 with 7 home runs. Although he plays the laziest right field I think I've ever seen, if he can keep hitting, I'll keep my complaints to a minimum – I just wish the Yankees had room for another designated hitter as that's where he belongs.
Steven
: I cannot stand watching Carlos Beltran play (more so than Didi and Headley). Why Cashman thought it was a good idea to sign a 37-year-old to a 3-year contract is mind blowing in my eyes. Aside from his inability to stay healthy, Beltran's offensive numbers have been extremely disappointing. He also shows a lack of effort that resembles Robinson Cano. It's unfortunate that I have to say this, but I wouldn't mind if he missed the entire second half. The only positive thing I have to say about Beltran is historically he's been a great postseason player. Maybe if the Yankees make the playoffs this year, that trend will continue.
Jacoby Ellsbury, CF
Chad's Grade: A-, Steven's Grade: A
Chad
: The reason Ellsbury gets an A- instead of an A+ is because the sole criticism of Ellsbury was warranted once again in 2015 – injury. When Ellsbury is on the field, he's been the best player on the team playing a flawless center field to go along with a batting average of .318 and on base percentage of an eye-opening .399. In terms of slugging, Ellsbury is having a down year with just 2 home runs and 4 doubles (no triples) in 42 games played for a slugging percentage of .376 (career .433 slugging). Ellsbury's already been caught stealing 6 times, one more than all of last year but stealing 14 bases in 42 games along with getting on base at the rate he has been is nothing short of what we signed him for.
Steven
: Jacoby Ellsbury is the best overall player on this team. I just wish he could stay healthy. While I was tempted to give him an incomplete, I decided I would grade him on what he's done thus far. Ellsbury, along with Brett Gardner, have been spark plugs at the top of the lineup, and have really ignited this offense at times. Ellsbury is also one of the better defensive outfielders in baseball. If he can stay healthy for the rest of the season, I feel very confident in this team's offense.
Ramon Flores, LF/RF
Chad's Grade: C+, Steven's Grade: B
Chad
: Ramon Flores likely gets a D offensively but his defense has been incredibly valuable in his few games with the team. Flores has had his moments offensively but even with a small sample size, the batting average is just too low to be impressing as it's just .219. We all remember the outfield assists and plays Flores has made though which have been much needed.
Steven
: I was also tempted to give Flores an incomplete, but I think I saw enough out of him to say he earned a solid B. If Flores were given consistent at bats, I believe he could be a very productive MLB player. He was impressive with the glove and got a few big hits during his time in the majors. To me it looks as if he will be used as a trade chip.
Brett Gardner, LF/CF
Chad's Grade: A+, Steven's Grade: A-
Chad
: It's easy for me to say that Brett Gardner is my favorite player on the Yankees. Gardy plays about as hard as I've ever seen someone play always hustling down the line and running balls down in the gaps. Gardner's power stroke has continued into this season with 10 home runs already to go along with a batting average of .302 (a career high), 42 RBIs, 22 doubles, 3 triples and 15 stolen bases. Brett the Jet has become a smarter base runner as he's stolen safely 15 out of 18 times as he's vastly improved and has become a leader of the team. I'll continue saying this all throughout the second half: Brett Gardner is the heart and soul of this Yankee team and if he continues succeeding, the team will follow suit.
Steven
: Brett Gardner has finally taken the next step in his career. Never in a million years did I think I would be saying this, but Gardner has become a great all-around player. He hits for average, power, and has been a run producer, while showing he's a strong fielder. The only knock I have on Gardner is he's a horrible base runner. You would think somebody with his speed would be an elite base runner, but unfortunately Gardner is not. He also makes many routine mistakes that anger me, but overall I've been very impressed by Gardner's play. Slade Heathcott, CF
Chad's Grade: I, Steven's Grade: I
Chad
: Slade Heathcott became a favorite of mine after the Bronx Bomber Blogger had the opportunity to interview him in February. He told me that this was the first season he had ever come into completely healthy and boy, it showed. Heathcott shined in spring training and triple-A prompting a promotion when Jacoby Ellsbury went down with injury. Heathcott hit .353 in 6 games including a double in his first career at-bat and he also took little time hitting his first career home run. The hope is that he can make an impact on this team later in the season when he returns.
Steven
: Heathcott burst upon the scene (going 6-17) following Ellsbury's injury in late May, and I began to believe he could be a part of this team's future. Unfortunately, similar to his career in the minors, Heathcott couldn't stay healthy. Hopefully he'll be back here in September and can provide a spark off the bench as soon as rosters expand.
Garrett Jones, RF/LF/1B
Chad's Grade: C+, Steven's Grade: B-
Chad
: I had a preconceived notion that I liked Garrett Jones even before he was a Yankee and that has continued upon him dawning pinstripes. A big guy, Jones is one of the best power hitters the Bronx Bombers has to offer that has proven true even with inconsistent playing time this year. Jones has the ability to play the corner outfield positions as well as first base making him a valuable commodity off a major league bench. He's performed up to par which gives me no complaints about him whatsoever.
Steven
: Since he's been getting consistent at bats, Jones has been far better lately. He's hit for power, and has had quite a few clutch homers this year. That being said, he is still a below average first baseman and right fielder who hurts the team with the glove. The biggest thing with Jones that irks me is he lacks fundamentals. Not running out a strikeout, for example, is unacceptable. With Beltran out, I think the Jones/Chris Young platoon in right should suffice.
Mason Williams, CF
Chad's Grade: I, Steven's Grade: I
Chad
: Mason Williams played very well in his miniscule sample with the Yankees. Williams homered in his first at-bat and made some amazing plays in the field in Baltimore. Williams was hitting well and also showed his good arm and speed as a centerfielder. He too got injured replacing Slade Heathcott who replaced an injured Jacoby Ellsbury.
Steven
: Similar to Heathcott, Williams burst upon the scene hitting a home run in his first major league at bat against the Baltimore Orioles. He hit .286 during his time in the majors. Unfortunately for Williams, like Heathcott, he couldn't stay healthy. It's a real shame that none of the younger guys (Heathcott, Williams, or Flores) could take advantage of the Ellsbury injury.
Chris Young, RF/CF/LF
Chad's Grade: B+, Steven's Grade: B
Chad
: It's safe to say Chris Young loves the New York Yankees. After briefly thriving in 2014, the success has continued into 2015. If you look at Young's righty/lefty splits, the difference is astronomical. Young is one of the best hitters in baseball against lefties hitting to a .354 average verses left-handers in comparison to a .180 average against righties. There's no reason Young should ever be out of the lineup when a lefty is on the mound.
Steven
: Chris Young was a huge part of this team's early success, but he is also one of the more streaky players in the league. When Young starts hitting, he gets HOT. I think if the Yankees can keep Young in a reserve role, with him getting most of his playing times against lefties, he will be fine. He's also great to have on the bench, so he can serve as a defensive replacement late in games for either Carlos Beltran or Garrett Jones in right field.
That wraps up our midseason report card for the hitters on the New York Yankees. This is just part one in our three part series where we have graded the hitters, the pitchers and the coaches. Remember to follow Chad on twitter @Chad_Rain and Steven on twitter @SEareckson. For Part two of series where we have graded the pitchers CLICK RIGHT HERE!