Rapid Reaction: Yankees acquire Starlin Castro from Cubs
Just before 8:00 PM ET, the Yankees acquired middle infielder Starlin Castro from the Chicago Cubs. Anticipation for the return on Castro was heightened for nearly 10 minutes before Jack Curry of YES Network broke the official deal. Right hander Adam Warren and a player to be named later were going to Chicago. That PTBNL ended up being infielder Brendan Ryan.
OFFICIAL: Cubs get: RHP Adam Warren and INF Brendan Ryan Yankees get: 2B/SS Starlin Castro

— Bronx Bombers (@BronxBomberBlog) December 9, 2015
At first glance, this is a great deal for the Yankees. Sure, we loved the reliability of Adam Warren and the slick fielding of Brendan Ryan, but to get a young All-Star middle infielder in today's game is incredibly valuable. Castro came into the league as a shortstop which is why some last offseason thought he might have been the heir to Derek Jeter. In 2015, Castro made the move to second base in favor of Addison Russell. With that, Castro slots in as being the Yankees everyday second baseman but will also see spot starts at shortstop.
Castro, only 26 at Opening Day in 2016, is entering the prime years of his career. Already a career .281 hitter with a .404 slugging percentage, Castro was a 3-time All-Star with the Cubbies in 2011, 2012 and 2014.
In a hitter friendly park, Castro's numbers should improve and he could reach his full potential.
Early projections show Starlin as the Yankees number 8 hitter in the order. As a guy who will likely hit in the .270s-.280s with 12-18 home runs in Yankee Stadium as the club's number 8 hitter, he brings great value to the Bronx. To make matters more favorable for the Yankees, Castro is locked up for the next four seasons until 2019 and is due to make $38 million over that span.
On the flipside, those who know me know that I am biased toward my Tar Heels; so naturally, I was slightly disappointed to see Adam Warren being involved in the deal. However, with the abundance of starting pitching the Yankees have, Ivan Nova, Michael Pineda or Warren were bound to be included in a trade. Warren's versatility as a starter and reliever is the thing the Yankees will miss most, but that is replaceable either internally, on the free agent market, or with another trade. See our previous posts on the countless ways to add rotation or bullpen depth.
For the any major league team, Brendan Ryan's sole purpose on the roster is his glove. The fact of the matter is that Ryan is a below average major league hitter with absolutely no power. His gold glove caliber defense makes him a valuable commodity for a team like the Cubs whose middle infielders are not the greatest of fielders. The bottom line is that it was only a matter of time before he was designated for assignment by the franchise so to include Ryan in this package is something Cashman should be applauded for.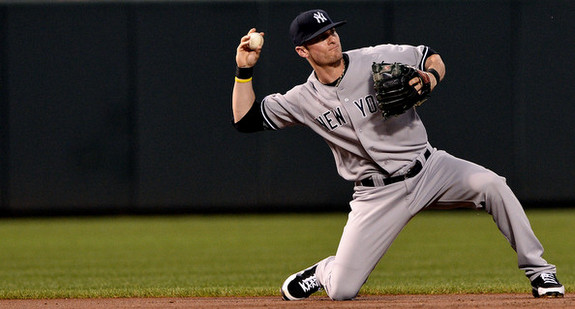 So what does this move mean for the Yankees as a team? Well, Dustin Ackley likely becomes the super-utility guy due to his ability to play 2B, 1B, LF, CF and RF. For Rob Refsnyder, he gets the short-end of the stick as he likely ends up in triple-A, Scranton, unless his name ends up surfacing in trade rumors. Personally, with Castro coming to New York, I now look for Refsnyder to be dealt before Spring Training begins.
Lastly, due to what Brian Cashman calls the Yankees "tight budget," this move likely leads to other moves for the Yankees to make. Look for Brett Gardner, Refsnyder and another arm to potentially be moved before the offseason is all said and done. Point being: Cashman was flexible going into the offseason and this trade allows him to keep his flexibility with the roster,

if not giving him more flexibility than he had in the beginning.
For now, let's celebrate this trade. It looks like a fantastic deal on the surface. Now, all we can do is speculate as to what other moves Cashman has in store. For kicks, we can also speculate what home run calls John Sterling has in store for Starlin Castro.