Why this could finally be the year for Michael Pineda
Even since before he came to the Yankees, Michael Pineda has been a tantalizing talent and an equally frustrating one as well. Pineda broke into the big leagues with the Seattle Mariners in 2011 and has always flashed plus stuff but he has also had trouble with consistency and had some untimely run ins with the injury bug as well. This is probably a piece that gets written somewhere early in every season when Big Mike pitches well, but could this finally be the year that Pineda puts it all together and pitches like the ace we continue to see flashes of?
Photo Credit: Getty Images
Michael Pineda has been a member of the Yankees since the 2012 season but his Yankee career was almost over before it began. He was acquired from the Mariners the winter after his rookie year but went on to miss all of the 2012 season and most of the 2013 season with a series of shoulder injuries. Although Pineda has missed some time with injuries in the seasons since then he has not had any major injury scares like the torn labrum he suffered in 2012. A torn labrum is an injury that has derailed many pitching careers but Pineda has come back since then and managed to maintain the plus arsenal that he arrived in the big leagues with.
If you have watched Michael Pineda pitch you surely know what it is that excites fans and leaves them scratching their heads at the same time. Pineda takes the mound with an imposing 6 foot 7 frame and has the potential to be a true ace. At his best he is a relentless strike thrower who pounds the zone and issues very few walks. He throws a plus fastball with some cut action that sits in the mid-90s and sometimes gets a few tics higher. Prior to his shoulder injury this pitch would consistently sit in the high 90s but after all he has been through mid-90s is more than good enough. He throws a plus slider that Brooks Baseball describes as having 12 to 6 movement with sharp downward break to it. When it's on it is a true put away pitch and really something to watch. Pineda has dominated games with his fastball-slider combination alone but something that he has shown so far this year could lead to more consistency for Pineda.
The lack of a consistent third offering has sentenced many promising pitching prospects to a career in the bullpen and that has been a concern about Pineda for several years. Just like AJ Burnett before him, Pineda is a true power pitcher with a plus fastball and breaking ball. Also just like Burnett, we have heard a lot about Pineda possessing a changeup that could give him that third offering and complete his arsenal. Burnett did not throw his changeup all that often but he was much further along in his career. Pineda, having missed large chunks of time to injury, missed a lot of development time that could've been used to refine his arsenal but we are seeing more and more of the changeup from Big Mike and it looks like it could be the pitch he needs to take another step forward.
Pineda's bread and butter will always be his fastball-slider combo but if you've seen his changeup, you know that it is a quality pitch that he can use to put away batters and keep them off his fastball. It sits in the high 80s and has sharp break down and in to right handed batters. Pineda pounds the zone so relentlessly with fastballs that when he throws this pitch to the bottom of the zone and the bottom drops out even further, batters often look foolish waving at it.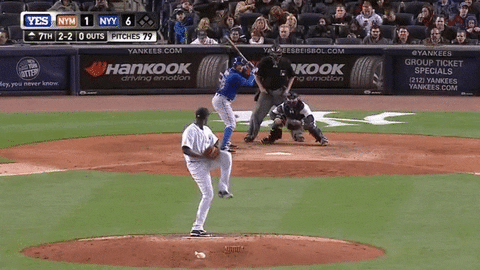 It's the fact that he has such great stuff that makes his inconsistency so frustrating. It was almost unbelievable to watch him pitch last year. He would cruise through several innings and then suddenly implode and give up a rally. It was almost a perfect representation of his career thus far: great stuff flashing throughout inconsistent performances. Now most teams around the league wouldn't give up on a promising 28 year old under team control no matter how frustrating their performance is, but Pineda's is one the most extreme cases of the stuff not matching up with the stats.
Last season in 175.2 innings pitched Pineda posted a 4.82 ERA and allowed 184 hits and 27 home runs. His inability to shut down rallies definitely ballooned these numbers but it wasn't all bad. Pineda struck out 207 batters last season and issued just 53 walks, a ratio of 3.91. These stats compare somewhat strangely to his 2015 stats however, when he posted a 4.37 ERA in 160.2 IP with 176 hits allowed, 21 home runs and 21 walks. In a similar amount of innings pitched between 2015 and 2016 his ERA, home runs allowed and walks all went up while hits stayed about the same. Compared to his 3.91 K/BB ratio in 2016, this ratio was 7.43 in 2015. What I get from all of these numbers is that Pineda hurt himself more in 2016 and provided hitters more opportunities to do damage. This is something that will have to change from last season if Pineda is to continue his promising performance thus far.
Photo Credit: Brad Penner/USA Today Sports
Now the 2017 season is just a few weeks old but there has been a lot to be excited about. The Yankees first turn through the rotation was dreadful and Pineda was no exception, allowing four runs and eight hits in just 3.2 innings. That start was defined by the same problems that plagued Pineda last season, his inability to close out innings and shut down rallies. Since that start, however, Pineda has been a different pitcher and you could argue that it has been him and a seemingly revitalized CC Sabathia that have been leading the Yankees' rotation. The Yankees have been playing great baseball the last week or so and Pineda has turned in two great starts. First he electrified the Yankee Stadium crowd on opening day by flirting with perfection, retiring the first 20 batters he faced on his way to 11 strikeouts in 7.2 IP. He then helped the Yankees secure a sweep of the St. Louis Cardinals on Sunday night, allowing just two runs in seven innings while striking out six. The second outing may have been more promising than the first because he ran into trouble in a few spots but he was able to overcome it and not let it snowball, a definite departure from seasons past. Joe Girardi praised Pineda after his effort Sunday night,
"

He gave up the one run with two outs, but then he settled down after that and threw a good game. It's important because you want him to keep building and get some momentum, because he had a hard time doing that last year."
In those two great starts Pineda was mixing in his changeup effectively, throwing it 13 and 11 times respectively against the Rays and Cardinals. It won't mean much if he doesn't have his good fastball and slider but seeing Pineda mix in his changeup and work out of trouble on his way to a few good starts is a promising development so far. Through three starts this season Pineda has a 3.44 ERA in 18.1 IP, striking out 23 and walking just one.
Photo Credit: Seth Wenig/AP Photo
Michael Pineda has been a very fascinating pitcher to watch in his career thus far. In seasons past you would have had better luck calling a coin flip than predicting which version of Mike you would get. He has bounced back and forth from dominant ace to punching bag and everywhere in between regularly all while displaying top quality stuff. Whether or not that was all in his head or due to inexperience and lost development time, Pineda has been confusing Yankee fans for years but based on his early season work thus far I believe this may be the year for Big Mike.
Of course if he goes out a few days from now and gets bombed on his way to another season like last year I'll look back at this and laugh. Overall though I think he has put himself in a position to finally break through. He is solidifying his changeup as a solid third offering and has not had any injuries to derail him since 2015. We can only hope that all of these factors allow him to get into a groove and build momentum as the season goes on. The stuff has always been there but when it comes to the man we call "Big Mike" you really do never know.
Article By: Matt Graziano
Follow @mattgraz930
Follow @BronxBomberBall