Series Preview: New York Yankees vs New York Mets (7/20-7/22)
The Yankees enter the second half of the season with a 62-33 record, which has them slotted in second place in the AL East behind the Boston Red Sox who are currently 4.5 games ahead with a 68-30 record to this point in the season. Following last year's close encounter with the Minnesota Twins in the AL Wild Card game, the Yankees should definitely do their best to avoid the one game nightmare in this second half. The Yankees will begin this quest with a three game set against New York's inferior team, the New York Mets. The Mets are currently sitting at the bottom of the NL East with a 39-55 record and the Yankees won two of the three meetings between the teams this season, signs which should indicate a Yankees' series win. However, unfavorable pitching matchups could derail the Bronx Bombers in this Subway Series.
GAME ONE (Friday, July 20 | First Pitch: 7:05 PM ET)
Domingo German (2-5 5.49 ERA) vs. Noah Syndergaard (5-1 2.97 ERA)
TV: WPIX, SNY
Game one will see Domingo German take the mound against the Mets for the second time this season after facing them in early June. In that start, German went six innings striking out nine while allowing three runs, a decent start for him in what has been a subpar season. He'll likely have to be better than his previous start though, as the Mets will be putting Noah Syndergaard on the mound for game one. Syndergaard has struggled with injury this season, but has been very effective when healthy, especially as of late. Syndergaard has allowed just two home runs in his last five starts and has thirty strikeouts over those same five starts. The Yankees offense is potent though, and should be capable of putting runs on the board to match the runs German will allow.
GAME TWO (Saturday, July 21 | First Pitch: 1:05 PM ET)
Sonny Gray (6-7 5.46 ERA) vs. Steven Matz (4-7 3.38 ERA)
TV: WPIX, YES
In game two, the Yankees will be putting Sonny Gray on the mound who has been by far the most disappointing part of this roster this season. Gray has pitched to a 5.46 ERA in 18 starts this season, giving up an average of three runs in five innings per start. Gray was supposed to be a strong veteran presence in the middle of the rotation this season, and instead he has been a constant source of dread for Yankees fans. Gray did put together a solid start against Baltimore going into the All-Star Break, going six innings, striking out six, and allowing no runs. The Yankees may need that Sonny Gray for the second half of the season if they want to win the AL East, and this start will set the tone. For the Mets, Steven Matz has been solid this season. In his last three starts, Matz has allowed four runs, struck out fifteen, and allowed two home runs in eighteen innings of work. In his one outing against the Yankees, Matz pitched six innings and allowed three runs. The Yankees should be able to replicate that offensive production again, but they may need more with Gray on the mound.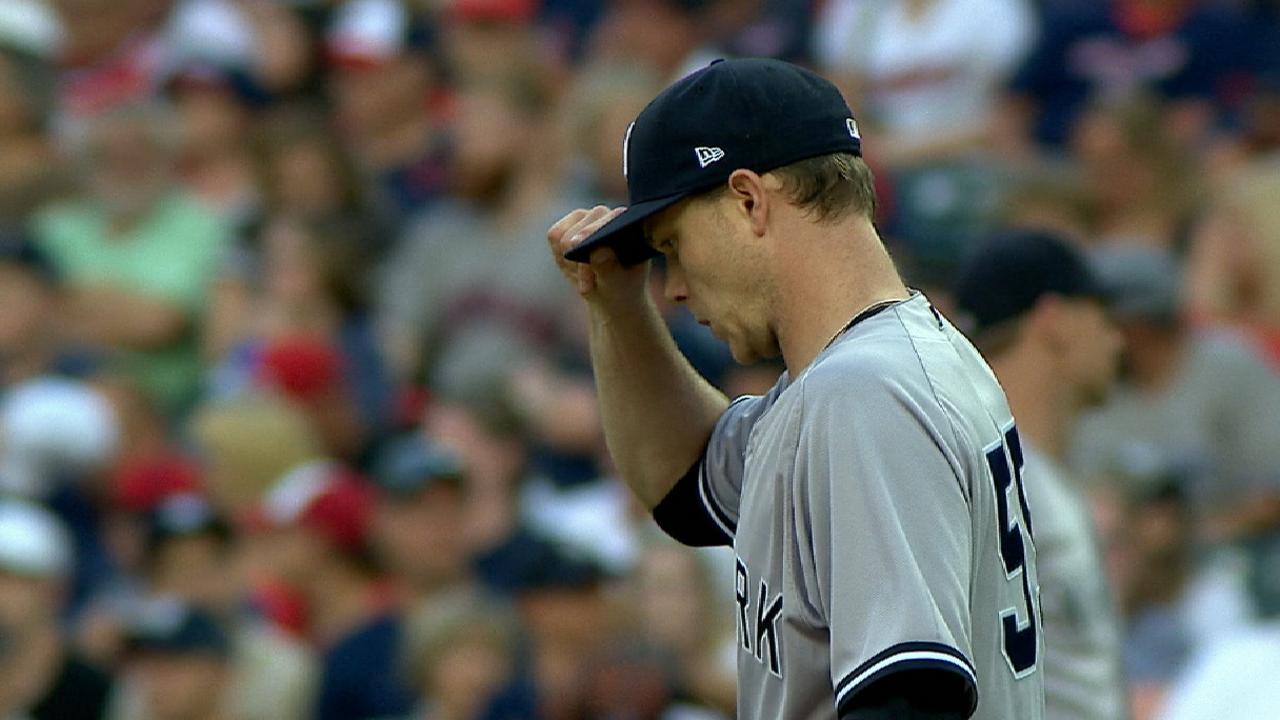 Photo Credit: MLB.com

GAME THREE (Sunday, July 22 | First Pitch: 8:08 ET)
Masahiro Tanaka (7-2 4.54 ERA) vs Jacob deGrom (5-4 1.68 ERA)
TV: ESPN
The Yankees will finally put a somewhat competent starter on the mound in game three, as Masahiro Tanaka will take the mound on national television. Tanaka has been decent this season, starting fifteen games while striking out 83 batters with a 4.54 ERA for a record of 7-2. Tanaka's record is not at all indicative of his season though, as he has received a ridiculous 6.27 runs of support on average. That likely won't be the case on Sunday though, as the Yankees offense will be up against Jacob deGrom who has been stellar this season. DeGrom has started nineteen games this season and has pitched less than six innings only twice. In his last two starts before the break, deGrom pitched eight innings in both games while only allowing one run and striking out fifteen. DeGrom was also named to the All-Star team and is seen by many as the leading NL Cy Young candidate, so the Yankees will have a tough time creating offense against him.
Players to Watch
Yankees
Gary Sanchez
Sanchez was recently activated off the DL after missing a month with a groin strain. Sanchez's return spells the end for Higashioka who was a solid power hitter in Sanchez's absence alongside Austin Romine. In his 265 at bats this season, Sanchez is hitting just .190 with fourteen home runs, a major decline from his past seasons. Hopefully Sanchez can bounce back quickly from this injury and begin to return to his old self, as the Yankees could certainly use another solid offensive option in the lineup.
Photo Credit: Bill Kostroun | NY Post
Giancarlo Stanton
After declining a home run derby invite and failing to make the All-Star roster through the final vote, Stanton was not a part of the break's festivities and therefore should be plenty rested to begin the second half. If history is any indicator, Yankees fans should expect a big series out of Stanton who seems to love terrorizing the Mets. Against Jacob deGrom, Stanton has hit .409 in 22 ABs with nine hits and four home runs. Against Steven Matz, Stanton has hit .400 so far in his career in ten ABs with two home runs. His success stops there though for this series' pitchers, as Stanton is hitless in his eleven at bats against Syndergaard, so look for Stanton's success to begin in game two.
Mets
Yoenis Cespedes
Cespedes will also return in this series after being placed on the 10-day DL with a mild strain of his right hip flexor. Cespedes has been decent this season, hitting .255 in 137 at bats with eight home runs and 28 RBIs on the season. These numbers are all down from last season though, and, with the Mets struggling, Cespedes will really need to become a constant threat offensively if the Mets want any chance of salvaging their season.
Jacob deGrom
Jacob deGrom has been stellar for the Mets this season, was named an All-Star, and is widely considered to be the NL Cy Young frontrunner. Despite all this though, the major buzz around deGrom is the possibility of him being moved in a trade at the deadline. The Mets are staring down a possible rebuild after having a very disappointing first half of this season and being just a few seasons removed from a World Series appearance. DeGrom would fetch quite a haul for the Mets which could quickly help them reload their farm system with a burst of young talent. The Yankees have been listed as one of the possible suitors for him and if he manages to completely shut them down on Sunday, then the Yankees could be even more enticed by him.
Photo Credit: Noah K. Murray | USA Today
This series will be an interesting one for the Yankees, as they will face a much inferior team, but they will also face very unfavorable pitching matchups. Syndergaard and deGrom are both very solid starters, and with the Yankees putting Gray and German on the mound in the series, the Yankees could very possibly lose this series. However, the Yankees potent offense should be able to perhaps drag the team to a much needed series win.