Brett Gardner placed on IL and other Thursday notes
Prior to Thursday's game against the Boston Red Sox, the Yankees placed Brett Gardner on the 10-day IL with left knee inflammation. The move is retro active to Monday July 22
nd
and LHP Stephen Tarpley was recalled from Triple A to fill the roster spot.
The injury to Gardner will leave the Yankees with a short bench of just Austin Romine and Gio Urshela for Thursday's game. Aaron Boone told reporters that Urshela would be the team's emergency fourth outfielder, but that he has not played the outfield in his career to date.
If there are no setbacks, Cameron Maybin should be back to help soon. Maybin has been out on a rehab assignment since Tuesday and is scheduled to play nine innings in the outfield on Friday. As long as that goes well, he could be back with the team as early as Saturday. When Maybin is activated one of Nestor Cortes or Tarpley will likely be optioned back to Triple A.
Its not clear whether the Yankees considered calling up Clint Frazier to fill Gardner's spot, but Aaron Boone did acknowledge that he has received "good" reports about his play in Triple A. Frazier was 13-30 with four home runs over his last eight games before Thursday. Unless there is another injury, it seems the Yankees are content with Frazier continuing to work and improve in Triple A for the time being.
Gardy heading to the IL comes after Gary Sanchez was placed on the 10-day IL prior to Tuesday's game with a groin strain and Kyle Higashioka and Nestor Cortes were recalled. Aaron Boone told reporters that it was a grade 1 strain, but that they will be cautious and see how the week unfolds before moving forward. This is the second IL stint of the season for Gary, who missed 11 games earlier in the year with a calf strain. Higashioka has played 53 games for Triple A Scranton this season and is batting .268 with 16 homers and 40 RBI.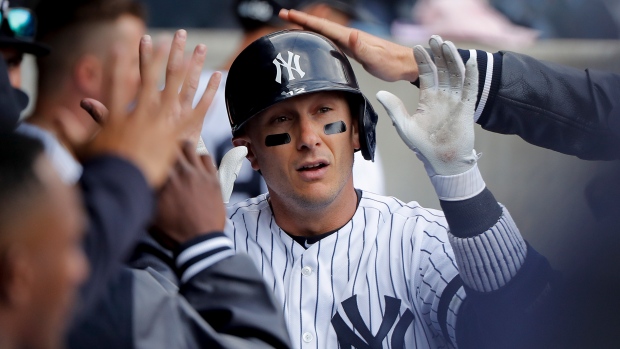 Credit: The Canadian Press
Troy Tulowitzki announced his retirement from Major League Baseball on Thursday after 13 seasons. After losing all of last season to injuries in both feet, Tulo was healthy and excited coming into this season as a member of the Yankees. Unfortunately, his season lasted just five games and on April 3rd he suffered a strained left calf. While he had pretty much recovered from the injury by early June, the Yankees announced at the time that Tulo had returned home as they weighed his options going forward. There was not another update on his status before today's announcement. Cheers to Tulo on a good career and best wishes to him. "I will forever be grateful for every day that I've had to live out my dream. It has been an absolute honor."
Follow @mattgraz930
Follow @BronxBomberBall