Assessing the Yankees outfield options for early 2020
With Aaron Hicks
undergoing Tommy John surgery in the winter and targeting a July/August return date,
and Giancarlo Stanton
and Aaron Judge's
status
es
for Opening Day unknown,
the Yankees outfield
could see
some changes throughout the
opening weeks of the season
as players try to establish themselves as contributors to the team.
Aaron Judge
has been battling pectoral and shoulder issues, and
he is currently undergoing further evaluations.
Little explanation is needed as to why having a healthy Judge is critical for the Yankees, as he is one of the best offensive and defensive players at his position in all
of baseball. However,
should he miss any time
,
there are a few options as to who could patrol right field. Mike
Tauchman
could be a leading candidate, but he may already have a spot in left
with Stanton being doubtful for Opening Day
. That leaves Clint Frazier, who
is entering what could be a make-or-break year for him in pinstripes. There are no doubts of what he can do offensively, but his defense has struggled in recent years.
However, all reports from camp indicate he's been working hard to improve with the glove.
Photo Credit: Getty Images
With Hicks out, Brett Gardner looks to once again
fill the everyday center fielder role as he did for much of 2019. Gardner had a career year last season, with 26 home runs, 74 RBIs, and
a slugging percentage of .503, all of which were career highs. The Yankees rewarded him
this offseason
with a 2-year,
$20 million contract.
The veteran outfielder
is also no slouch with the
glove and
provides key leadership as the last holdover from the 2009 World Series-winning Yankees.
Mike
Tauchman
is again the leading candidate for the backup role
should Gardner miss any time or have the occasional day off. Tyler Wade could also theoretically play in
center but
would probably be more useful as a backup in the infield.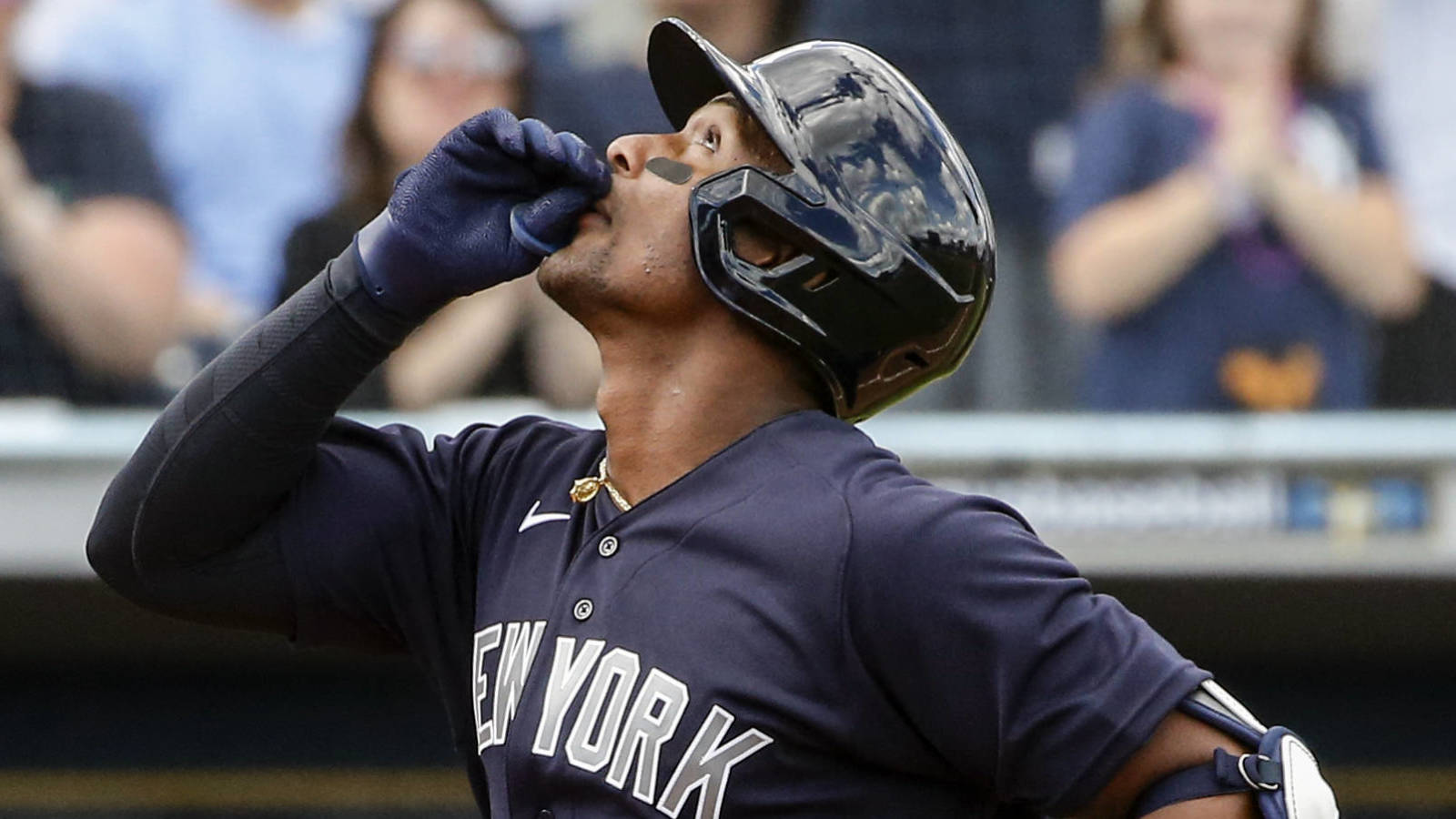 Photo Credit: Butch Dill-USA TODAY Sports
Here's where things get complicated.
If Gardner is in center every day, Mike
Tauchman
would likely be the left fielder
while Stanton is out
.
Tauchman
performed very well in 2019, hitting .277 while playing all three outfield positions.
However, the Yankees could swap them around as they see fit, with
Tauchman
patrolling center while Gardner plays left field. Clint Frazier also has experience in left,
as does Tyler Wade.
When
Stanton is healthy,
the Yankees may look to balance his time in left with a DH role depending on his condition and comfort in the position, as well as how the rest of the lineup shakes out.
The wildcard in this conversation is
Miguel
Andújar
, who has been playing some left field in spring
training and
seems to be ada
pting well to the position.
The Yankees will of course want
Andújar's
bat in the lineup, as he
hit .297 in his rookie season in 2018 and broke the rookie record for extra-base hits.
He has been playing some innings at third base as
well and
is expected to take some reps at first.
Decisions abound for Aaron Boone, as
he tries to piece together his lineup and roster for the 2020 season.
Article by: Gus Wetekamp
Follow @BronxBomberBall
Follow @gus_wetekamp_23