Series Recap - ATL @ NYY (8/11 - 12): Yankees sweep brief two game set against the Acuna-less Braves
Coming off a brutal road trip that saw them drop five of seven games to the Phillies and Rays in addition to the loss of Giancarlo Stanton to a hamstring strain, the Yankees needed a change of momentum fast as they returned home to the Bronx this week and got just that by taking both games in a quick two-game set against the Atlanta Braves.
Photo Credit: Kathy Willens/AP Photo
The Yankees got strong starting pitching out of Jordan Montgomery in the opener and then held on for dear life late as both David Hale and Luis Cessa struggled in middle relief, however, Chad Green, Adam Ottavino and Zack Britton were able to nail down the game late in a 9-6 victory.
Luke Voit opened the scoring in the bottom of the first with a three-run blast off Braves' starter Touki Toussaint, Mike Ford chipped in with a three-RBI night (drove in 4 total, 1 via a GIDP), and Aaron Judge absolutely assaulted a ball in the bottom of the fifth before he was lifted for precautionary reasons, citing lower body discomfort.
Jordan Montgomery was cruising through five plus innings until he ran into some trouble in the sixth, issuing a three-run HR to Marcell Ozuna, but still completed six innings to earn his second victory of the season.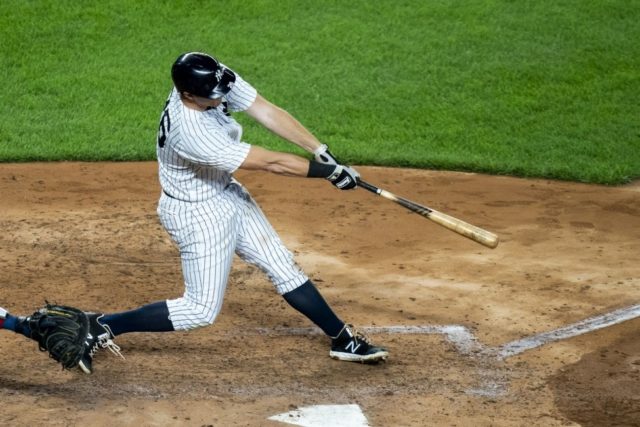 Photo Credit: Breitbart
The second game of this series saw the season debut of Clint Frazier and Clint did not disappoint. Frazier would go 3-for-4 on the evening, with a home run, single and double, while DJ LeMahieu went 4-for-5 to push his season batting average to an AL leading .431. Gary Sanchez added his second HR of the season as well.
Masahiro Tanaka wasn't his best in this game, only going four innings, but holding the Braves to just two runs over that stretch. Jonathan Loiasiga chipped in two innings in relief of Tanaka to earn the win.
The Braves made it interesting in the ninth, bringing the tying run to the plate, but Britton was again nails in the biggest moment to earn his seventh save of the season in place of Aroldis Chapman.
Scores from the Series:
· Tuesday, August 11 – Yankees 9, Braves 6
o W: Montgomery (2-1), L: Toussaint (0-1), S: Britton (6)
· Wednesday, August 12 – Yankees 6, Braves 3
o W: Loaisiga (2-0), L: Matzek (2-1), S: Britton (7)
Who's Hot?:
· DJ LeMahieu: 5-6 (.833), 1 RBI, 2 BB, 4 R
· Aaron Hicks: 2-6 (.333), 1 RBI, 3 BB, 4 R
· Luke Voit: 3-8 (.375), 1 HR, 4 RBI
· Chad Green: 1.2 IP, 2 K
Who's Not?:
· Brett Gardner: 0-7 (.000), 1 BB, 4 K
· Gio Urshela: 0-7 (.000), 1 BB, 1 K, 8 LOB
What's Next?:
The Yankees kick off a four-game weekend wraparound series with the last-place Boston Red Sox tonight. The Yankees swept the Sox just two weeks ago and will look to continue their home cooking in the Bronx where they've started the season 6-0. Gerrit Cole is expected to get the start on Friday night.
Recap by: Andrew Natalizio