Something special is happening in the Bronx in 2022
Something special is happening in the Bronx this summer. I know, I know, it's only June 17. We're only 63 games into a 162-game marathon season. I know I'm not the guy you expected to hear any optimism out of. But here we are, just under 39% of the way into a season I was sure was destined for a fourth-place finish, with the Yankees holders of the best record in Major League Baseball and the third-best 63 game start in franchise history.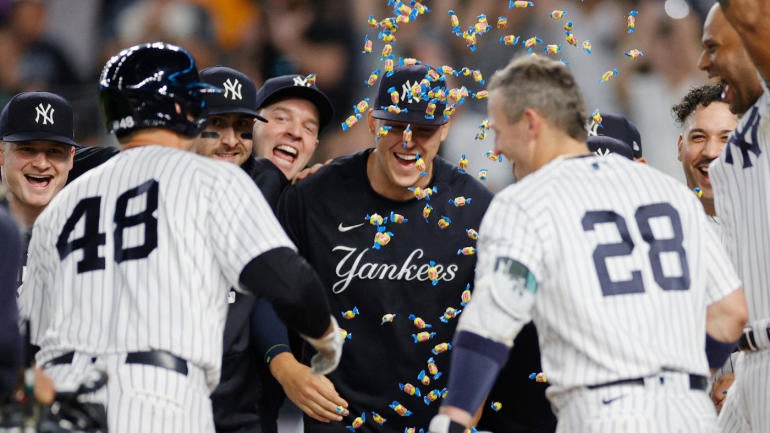 Photo Credit: Getty Images
Yes, this team. The team that routinely rolls out lineups laden with the likes of Joey Gallo, Aaron Hicks, Isiah Kiner-Falefa and Kyle Higashioka. The team that is currently down it's top-four bullpen weapons from last season (Aroldis Chapman on the IL recovering from achilles tendonitis, Jonathan Loaisiga out with shoulder inflammation, Chad Green out for the year after undergoing Tommy John Surgery, Zack Britton on the mend from 2021 Tommy John Surgery). But what's special about this team is that anyone can step up on any given night, that the starting rotation is doing some seriously special things, and that serious production is coming in regularly from unexpected places.
Let's start with the man who's leading the charge. Aaron Judge is currently the front-runner for the American League MVP award and is currently on-pace to set the Yankees' single-season home run record of 61 by Roger Maris in 1961. Aaron Judge bet on himself in the offseason, turning down a massive extension just before first pitch on Opening Day, believing he was worth more. Let's just say he was right. Very, very right. The things he's doing on the diamond on a nightly basis are surreal. He looks like a gold-glover in Centerfield after having played only a handful of games at the MLB level there prior to this season. He is leading the majors in homers, is fourth in RBIs, tops in slugging percentage, and second in OPS to the Cardinals' Paul Goldschmidt who is having an equally as ridiculous season. Aaron Judge is going to get to the bag this winter and is going to deserve every penny of it. And the Yankees are nightly benefactors from his performance.
Aaron Judge has a 1.131 OPS vs. pitches on the inside and outside edge of the plate. It's the best in the Majors, and by far his best ever.

Story on his big improvement this season ➡️ https://t.co/Fcfagc2uSq pic.twitter.com/lQ4vZvmVfa

— David Adler (@_dadler) June 17, 2022
Next up, the starting rotation. The Yankees starters have the second lowest staff ERA in the bigs at 2.75, behind only the Dodgers at 2.64. They have the lowest staff WHIP and are third in batting average against. The fivesome of Gerrit Cole, Nestor Cortes, Jameson Taillon, Luis Severino and Jordan Montgomery are completely locked in every time they take the mound. No starter has an ERA higher than 3.33. No starter has a WHIP higher than 1.070. No starter has a BAA higher than .248. Four starters have taken a no-hitter or perfect game into at least the sixth inning this year already. It's simply impossible to expect this level of performance to continue over a 162 games season, but the Yankees appear well positioned to go toe-to-toe against any staff in baseball in a playoff matchup later this year. We knew coming into the season the pitching would be good, but never in our wildest dreams did we think they could be this level of good.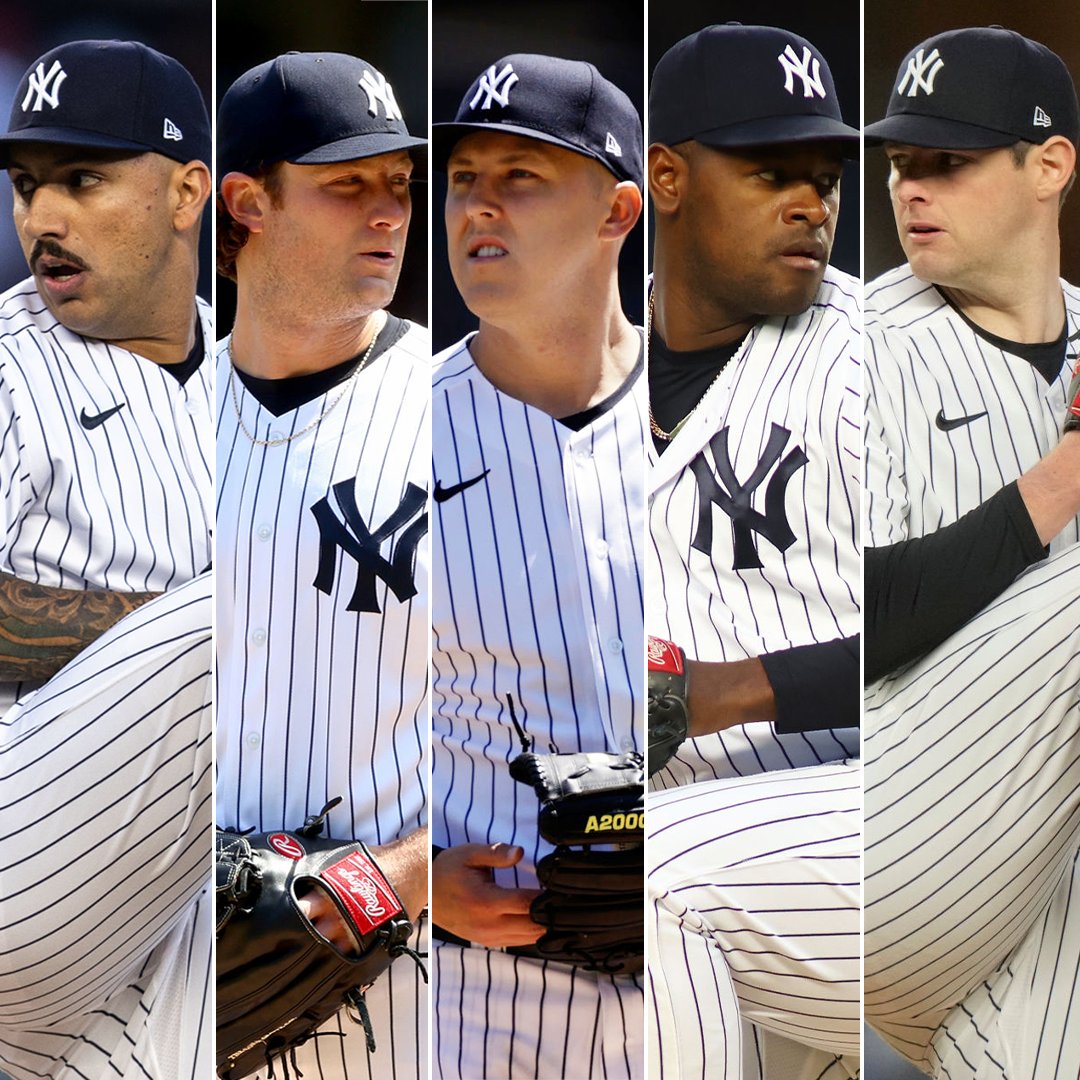 Photo Credit: Talkin' Yanks
You cannot talk about the pitching without giving a quick shout-out to Clay Holmes, who has ascended to the best reliever in baseball before our eyes. He currently sports a 30-inning scoreless streak, and has seamlessly slotted into the closer role in Chapman's absence. Matt Blake gets all the credit here and it's hard to say one negative thing about the work he's done since being hired in 2020.
ERA+ leaders this season (min. 25 IP):

1. Clay Holmes: 1298
2. Ryan Helsley: 1092
3. Jason Adam: 499
4. Brock Burke: 474
5. Jorge Lopez: 469

— New York Yankees Stats (@nyyankeesstats) June 16, 2022
I'd like to gloss over the disappointments that are Gallo, Hicks, IKF and Higgy because you get enough of that on a nightly basis on Twitter, but what I do want to draw attention to is the performance of guys like Josh Donaldson, Jose Trevino and Matt Carpenter.
Donaldson, acquired alongside Kiner-Falefa in the trade that sent Gio Urshela and Gary Sanchez to Minnesota, has been exactly what the Yankees needed at the hot corner this year. He brings an edge on both sides of the ball and in the clubhouse. While his offensive numbers aren't going to blow anyone away (.717 OPS, 108 OPS+), he has been masterful at the hot corner and has a knack for coming up with big hits, including two walk offs.
Josh Donaldson's 2nd walk-off of the season! 🌧💪 pic.twitter.com/e0VSsNbaOY

— YES Network (@YESNetwork) June 5, 2022
Jose Trevino was an afterthought when the Yankees acquired him just before the beginning of the season, and only because Ben Rortvedt (also acquired in the Donaldson/IKF deal) was hurt and has yet to play in a game at any level. Trevino only cost the Yankees the disappointing Albert Abreu, and has been a total breath of fresh air behind the plate amidst a deplorable start to the season from the previously anointed starter Higashioka. Trevino came in with a reputation for being a stout defender, to which he has played the part, leading the AL in many defensive metrics including defensive runs saved and frame rate. However, it's his bat that has been the biggest surprise. He enters this weekend's series against Toronto with a 133 OPS+ after producing only a 69 OPS+ over his first four big league seasons. He, like Donaldson, has had a knack for clutch hits, and the Yankees pitchers simply love throwing to him. He has been everything and more we could have every wanted.
Jose Trevino hits his 2nd walk-off winner of the season! 🚨💪🔥

Watch postgame coverage on YES and stream it on the YES app!pic.twitter.com/ZwDx8zjCUy

— YES Network (@YESNetwork) June 11, 2022

Matt Carpenter was signed off the street simply to fill a temporary vacancy on the roster with Donaldson and Giancarlo Stanton on the Injured List in May. Well, needless to say he has earned his spot on the roster. He has blasted six home runs and driven in 13 in just 28 at-bats (284 OPS+) and should be expected to remain on the bench for the remainder of the season provided he stays healthy. The Yankees elected to keep him over Miguel Andujar who immediately requested a trade, and I firmly believe that was the correct decision. Carpenter won't get many starts a week, but his left-handed bat has been everything the Yankees thought they were getting from Gallo last year. Also, that mustache? That thing is ICONIC.
Photo Credit: Getty Images
The Yankees still have a long way to go en route to their first division title in three years and only their second in the last 10 years, but entering play tonight they hold an absurd ten game lead over second-place Toronto, 12 games over third-place Tampa Bay, and 13.5 game over fourth-place Boston.
I came into this season with not much in the ways of expectations. Boy was I wrong. Something special is going on with this team, so for the time being, I'm retiring the complaining and sarcastic quips and just going to sit back and enjoy the ride.

Article by: Andrew Natalizio
Follow @anatalizio0523