Bronx Bomber Babble ALCS Post Mortem
Hello darkness, our old friend. Another failed postseason. Another infuriating defeat at the hands of the Houston Astros. Another offseason of questions that lies ahead

.

In our first of a few 2022 recap pieces, the boys of the Bronx Bomber Babble

Podcast

break down a few

burning questions

for this team as we head into the

offseason and

look ahead at the state of the franchise that has lost their way and still

hasn't

been able to solve the October riddle.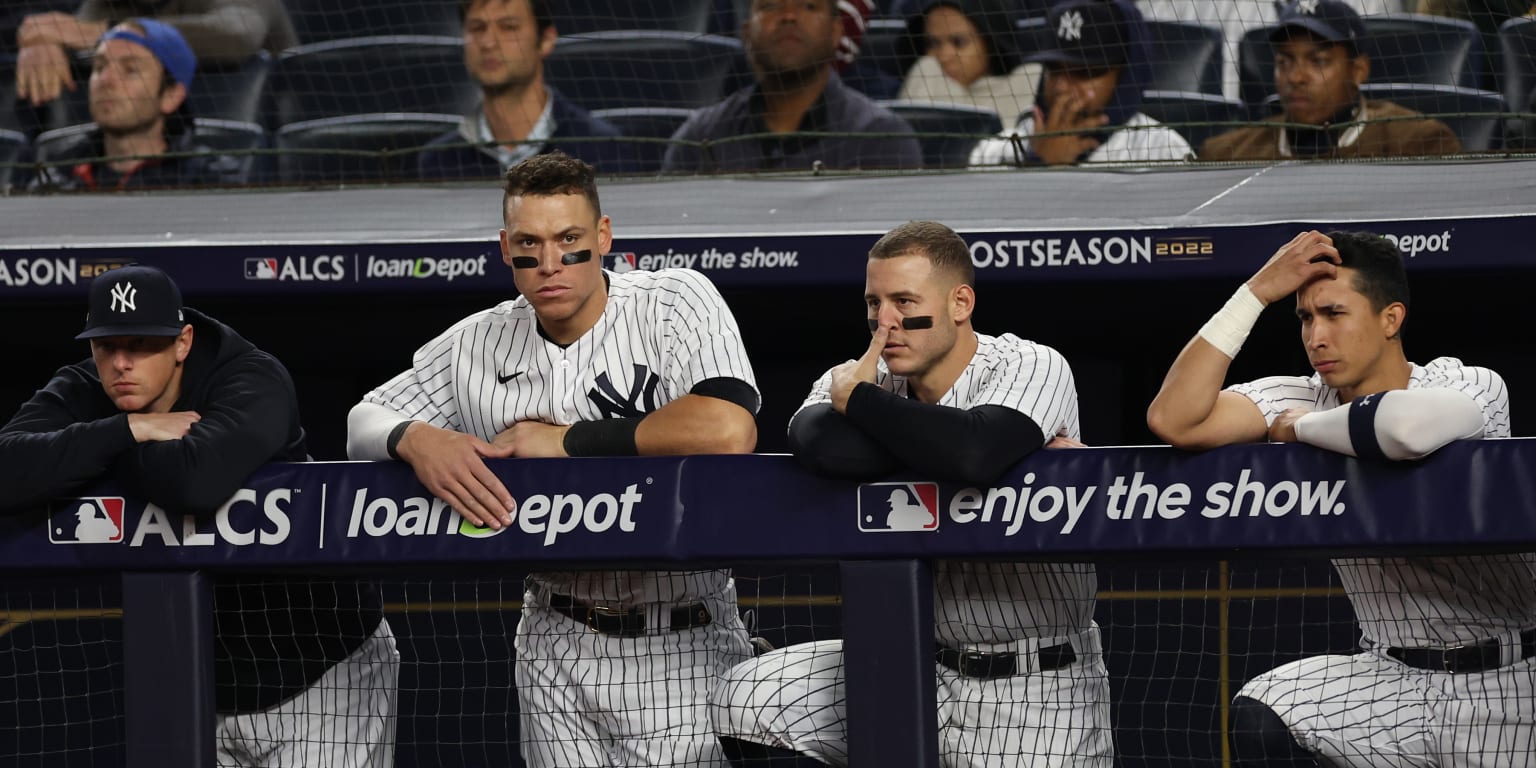 Photo Credit: MLB.com
Did you believe in this team going into the 2022 Postseason and why?
Andrew – I didn't, and while this may seem like captain hindsight at this point, I thought it was pretty clear by mid-July that this team was good enough to win ~100 regular season games, but not unseat the juggernaut Astros in October. The team has always been too one-dimensional, they strike out too much, they are super streaky offensively, they were too wholly dependent on Aaron Judge, plus the whole IKF debacle all season long (not to mention Joey Gallo and Aaron Hicks in the outfield). The Yankees led the Astros for a grand total of ZERO innings during the regular season this year, including getting no-hit in one of their five losses to them. That was never going to change in October. Despite Aaron Boone's blind optimism every postseason, you can't just flip a switch. In the words of former NFL head coach Dennis Green, "they are who we thought they were."
Alex - I seem to be in the minority that tries to be optimistic about the Yankees, so I had some belief that the team really could pull it together and manage to stun us all. After the walk-off loss in Cleveland though, I realized that this was not a championship-caliber team. Teams that win the World Series don't bring their rookie starter-turned-long-reliever in (Clarke Schmidt) to try and desperately get a save with their closer sitting in the bullpen. The offensive struggles after that were just the cherry on top to a truly dismal playoff run.
Luigi- I did not believe this team had what it took to win it all coming into the postseason; how could I? If it weren't for Aaron Judge having a record-breaking season, the Yankees would have squandered a 15-game lead in the division and would be one of the worst teams in all of baseball in the second half. Even WITH Judge doing what he did this team was still an average at best team from July on. If you include the postseason, their record was 41-47 since the All-Star Break, in other words a below average baseball team. So no, I had little to no faith that this team would make it out of the A.L when the playoffs began.
Matt – I think it was pretty clear heading into the postseason that the team would need to be carried by their pitching, their defense, and Aaron Judge. I thought they would maybe make a run on the strength of those 3 things, but I didn't have much faith in winning a World Series. Although they had some random hot streaks from players here and there offensively throughout the season, Aaron Judge carried them for most of the year. Their pitching and their defense were exceptional throughout the season it needed to keep that level to make a deeper playoff run. Unfortunately, their defense failed them at the worst moments and their manager's questionable deployment of the pitching staff repeatedly cost them.
Who is most to blame for the Yankees getting swept in the 2022 American League
Championship Series?
Andrew – While I'd love to pile on the Aaron Boone blame train, the fish rots from the head, and that's Brian Cashman and his entire department of front office goons. Marc Carig of The Athletic had a great tweet today, essentially stating that the Yankees continue to just run in back every year and expect to close the gap on the Astros instead of playing their game and making wholesale changes in the way they scout talent, develop talent, and use data and analytics on the field each night. Cashman is without a contract for 2023 at this point, and I believe it's finally time for a change, because the bullshit web he keeps spinning, and the way he's constructing these rosters isn't working anymore.
Alex – Let me just say this: the Phillies and Padres stunned the world with their NLCS runs led by Bryce Harper and Manny Machado. The Astros managed to once again win a pennant with a rookie shortstop that they put their faith in and were rewarded. The Yankees sat back and watched IKF put up an 84 OPS+ mixed with botched routine grounders and decided that he was the guy they needed to have start at shortstop in the playoffs while letting the established players sign elsewhere. This is on the front office.
Luigi - Brian Cashman and the front office. Like Andrew said, Boone is awful, and I do wish the Yankees would find a new manager. However, Aaron Boone is not the reason why Josh Donaldson and IKF were on this team. That is all on Cash and the front office. You see, the season didn't end Sunday night, the season ended on March 13th, when the Yankees made the trade to give away Gary and Gio for JD and IKF (Ben Rortvedt doesn't count because we aren't sure if he is a real person.) That was it right there, instead of getting a next level player in Carlos Correa, Freddie Freeman, or Corey Seager, Cash and Co. decided 'let's get this former WASHED MVP and a player who had 16 career home runs in his 400 MLB games'. And if we want to go back further, let's look back at two guys Alex just mentioned: Manny Machado and Bryce Harper. Both were in the NLCS leading their teams and stepping up when they were needed most, especially Bryce Harper, a player who Cashman claimed we did not need in 2018 because our outfield was filled with great players such as Brett Gardner, Mike Tauchman, Clint Frazier, and Aaron Hicks. It boils my blood to even think about what this team could have been, Machado and Harper this year make the same as Donaldson, IKF, Chapman, and Britton. I am 100% done with Cashman, he needs to be gone.
Matt - Brian Cashman and Aaron Boone, while I often like to have the players be accountable and responsible for their performances not being good enough, I think it is very clear that this group of players was not good enough. It's been talked about to death, the Yankees passing on the Harpers and Machados in favor of Aaron Hicks, Clint Frazier etc. This Yankee team was set up coming off the surprise run of 2017 and most of Cashman's moves since then have been disastrous, whether it's because of penny pinching or just trying to outsmart the field instead of going with a proven/star free agent that would require a longer-term commitment. Harper powered the Phillies to a WS appearance and was practically on his knees waiting to play for the Yankees. All of that to say that, while Cashman has had plenty of great trades in his tenure and the Yankees run of winning seasons without a losing one is remarkable, but they were set up in 2017 and the moves made since then have been terrible. If these moves are in part because of a penny-pinching mandate by Hal Steinbrenner, then put him on the list too.
Aaron Boone is clearly over his head in many tactical aspects of managing. While the Yankees, due to injury or otherwise, may have lacked a true leadoff hitter or an experienced and reliable shortstop, Boone has been making the same mistakes since day 1 as manager. His lineups are different every day and often seem like they're from a random name generator. His usage of the bullpen cost the Yankees ALDS game 3 and probably cost their best chances at ALCS games 1 and 3 as well. His deployment and roster decisions with the Yankee shortstops this year was inexplicable and random at best. He does not have a feel for in game decision making and it hasn't improved during his tenure. As long as he is manager, the Yankees will never have a tactical advantage in any matchup.
Who will be the manager and General Manager of this team in 2023?
Andrew – With all that being said, I have absolutely zero faith in this organization to make the seismic changes required + admit their own failures in Cashman and Boone, and so I expect both to return to their positions in 2023. Can these two men lead the Yankees to a title in 2023 or beyond? I really doubt it. But what I doubt even more is that this organization will have the cohones to go in a completely different direction and completely start over in an effort to get back on top.
Alex – Cashman will be back without a doubt. Boone? I'll put maybe a 10% chance he gets fired and used as a scapegoat. But I don't think anyone has any doubt in their minds that Cashman will once again be at the helm in 2023.
Luigi- It will probably be that loser Brian Cashman and that other loser Aaron Boone.
Matt – Highly likely that it will be Brian Cashman. I would say slightly less but still likely that Aaron Boone returns. Cashman's contract is up but Hal Steinbrenner will probably want to keep him. If they are aware of how pissed their fans are then maybe, they move on from Boone. If it was based on performance, they would definitely move on from Boone, who has accomplished far less than Joe Girardi did in his first 5 years on the job. While people think Boone is safe because he's the front offices preferred "analytics guy", I think it's clear that you could find an analytics driven manager who is better at actual in game managing. It's also been my opinion for a while that Cashman will never be fired but at some point, would move "upstairs" and he would hire his own replacement as GM. So while I hope for a change at manager at least, I remain skeptical that anything changes at all.
Will Aaron Judge return? If so, what type of deal are you forecasting him to get?
Andrew – Despite all this negativity and doubt rattling around my brain this morning after our ALCS sweep, I do feel like Aaron Judge will return in 2023 and will do so having been named the 16th captain in team history. What I am expecting, however, is an ugly and lengthy free-agency negotiation similar to the one we got with Derek Jeter in 2010-11. Ultimately, my best guess is the Yankees will have to go nine-years to drive down the AAV a bit, so the final contract number will be for nine seasons and $346.5 million ($38.5 million AAV). The team can pad those numbers with extra annual incentives (MVP, 300/400/500 HR thresholds, ALCS MVP, World Series MVP etc.) to get the max earnings closer to the $400 threshold.
Alex – I would love to see the Yankees try and go the shorter length, higher AAV route with Judge, offering him something along the lines of a six-year deal in the range of $250-$300 million. Ultimately, I think he will get eight to nine years and closer to $400 million, but it's fun to dream. I'm not as optimistic as Andrew that Judge will return, however, and that's just because I don't know if the Yankees front office will be willing to pony up a third $300+ million contract on their books, to join Cole and Stanton. Hopefully, I'm wrong.
Luigi- Right now my gut tells me Aaron Judge will be playing for the Dodgers or Giants next year and it honestly may be for the best. He is 30 years old, will most likely never have a season as good as he just had, has a lengthy injury history, a career .211 postseason batting average and .772 OPS, and he is coming off one of the biggest choke jobs out of an MVP in playoff history; and he is going to demand a $300 million plus dollar deal? I don't know, it is not my call, but I just don't think it makes sense at this point to pay him all that money when there are a lot of issues on this team that need to be addressed. The problem is I do not have faith in this front office addressing most of those issues, so maybe bringing Judge back is the right thing to do?? Who even knows anymore, life is pain.
Matt – I think it's more likely than not that he returns, but after the end of the season I'm a little less certain. I wasn't exactly getting Cole leaving Houston wearing the Scott Boras hat in 2019, but the vibe all season after not reaching an agreement was weird. I think the Yankees have a line that they don't want to cross. I think if he returns, it may be in the shorter length, higher AAV way, maybe 6-7 year $40m+ AAV. If the Dodgers or another team come with an out of this world offer, I'll be nervous.
What can this team do to finally catch up to the Astros going forward?
Andrew – Like Carig insinuated, the Yankees can't keep doing what they always do and expect next season to end any differently. That includes completely flipping the scouting and analytics departments. Replacing Aaron Boone as manager. Flexing their financial might and not trying to outsmart everyone else with B-level additions when top talent is available on the market. Figuring out how to keep everyone healthy for October. Becoming a more contact-oriented and well-rounded hitting team. Not being the most unclutch, invisible offense in the Postseason. And that's just for starters. Everyone – and I mean EVERYONE – should be available via trade this offseason. This core clearly isn't working, so I'm not committing to any single player for 2023 and beyond. If a move can be made that improves our chances of winning a title in the future, it needs to be made. The hell with loyalty and sentimentality.
Alex – Send everyone to the moon? Trade for Trout, Ohtani, Corbin Burnes, and Sandy Alcantara? Send Aaron Hicks, IKF, and Donaldson into witness protection? There's not much they can do without making earth-shattering changes. The Astros have shown that their player development system is otherworldy. They lost Gerrit Cole, George Springer, and Carlos Correa to free agency the last few years and replaced them with Framber Valdez, Kyle Tucker, and Jeremy Pena. The Yankees' player development in the last few years, outside of Judge, has given them Gleyber, Nestor Cortes, and....Domingo German? I guess? There's really not much. The Astros are a superstar creator, and the Yankees haven't developed a superstar not named Aaron Judge since Robinson Cano. That's not something that can be fixed in one offseason.
Luigi - Cheat.
Matt – In order to catch the Astros, they need to stop behaving like a mid-tier organization. The advantage of a big market organization is the financial resources they have that others don't. The Yankees spent $260m on payroll this year, so it's not that they don't spend enough, it's that they spent on the wrong players. Stop looking for stop gap or diamond-in-the-rough players and go get established performers. The baby bomber era has failed, and it's time to return to big market, Yankee baseball. The Yankees' farm system can and will still produce good and useful players, but they cannot bet on that over established stars any longer. The gap between the Yankees and Astros has not gotten smaller. It also seems apparent that they either need to change the voices in their analytics department or change the way they are deploying them. Last year they identified that their defense was a problem and were able to improve it this year. They now need to address an offense that has been disappearing in the playoffs. Astros pitching humiliated the Yankees all year long. Home runs are fun but it's clear that the Yankees need to change their approach in order to beat Houston. All of that in addition to their weakness at manager, Aaron Boone's weaknesses as an in-game manager put the Yankees behind the 8 ball and routinely cost them. Go get an experienced, proven tactician and deploy your financial resources like few other teams in the league are capable of.
Follow @GingerwaId
Follow @anatalizio0523